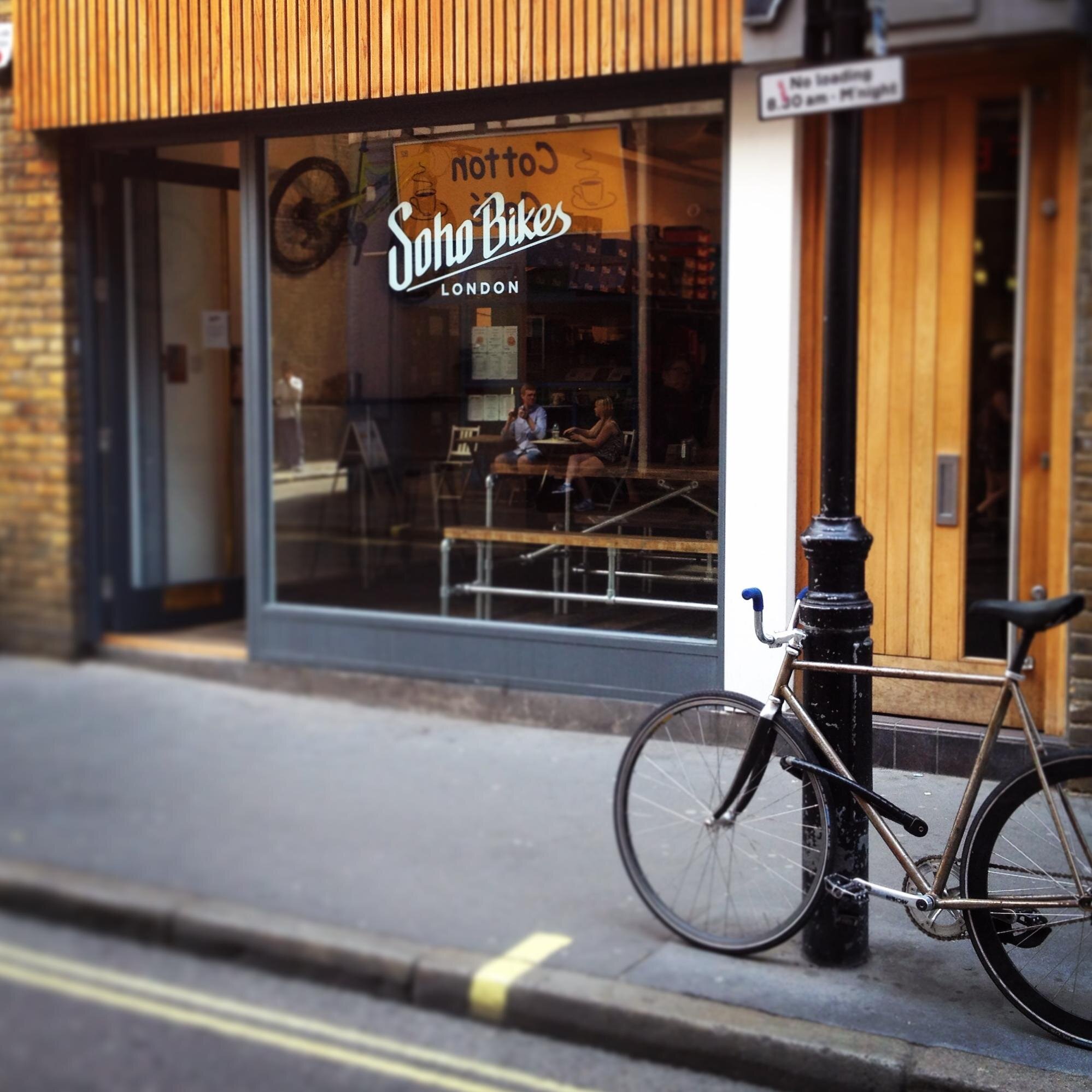 Coffee and beer: besides water, it seems that the only things that cyclists drink are either brown stimulants or brown depressants (yet both make you feel good). When traveling with a bike or going somewhere to ride bikes, getting a good coffee always seems to be a bit more of a task than getting a good beer. Maggie Harris has put together a selection of some cool coffee shops around the world whose best assets are the bike shops that are an intrinsic part of their vibe. 
What is it in particular that have cyclists obsessing over the best brews? Carter Donnell, a barista at the cycle shop and coffee bar Kinoko, explains that , "The caffeine hit before a ride or race. Both pastimes are very social and having an espresso before and after a ride is a perfect way to gear up or wind down with a group of friends. And let's not forget coffee is amazing – even on your own."
Bike shops-turned-coffee joints are possibly one of the greatest innovations of late especially for weary cyclists. The reason why they've been so successful is because of the cross-pollination of crazy ideas, which have always worked as a brilliant business strategy across various industries. If we take a look at the gaming industry in particular, one of their latest advancements dubbed Slingo Riches is a combination of slots and bingo, two games with completely different mechanics. Another example would be "edible checkers", one of the many creations listed in The Klutz Book of Inventions. So running an all-in-one bike and coffee shop was something that bike dealers couldn't possibly fail at.
There are a number of bike shops/coffee bars around the world, and we've rounded up five of the best ones just for you:
1) Soho Bikes, London
Normally bikes shops are strategically located near mountain ranges and bike trails, but not Soho Bikes. London is home to many cycle dealerships but rarely do they accommodate mountain bikers, so not only is this a trendy cafe in the midst of a film production community, but it's also shop that serious bikers can trust.
2) Bike Stop Espresso, Cairns
From the vibrant graffiti walls and chalkboard menu to the impeccable views of the Macalister mountain range, Bike Stop Espresso plays to all your senses. Make sure you stop by before you venture off to the nearby Cairns Mountain Bike Park.
3) Flying Monkey Bike Shop & Coffee Bar, Ontario
Have a cup of the Flying Monkey's Baroco Blends at Campbellsville's "most kickass bike shop fueled by caffeine." Flying Monkey is a great place to socialize while browsing through their deals on wheels.
4) South Mountain Cycle & Cafe, Pennsylvania
If you're really into the all-organic lifestyle, you'll be happy to know that LeHigh Valley's premier bike dealership grows their own certified organic blends and brews drinks using only organic ingredients. You can also purchase a bag of coffee beans, which come in four flavors.
5) Sedona Bike & Bean, Arizona
Sedona is a mountain biker's paradise perfectly situated in the biggest red rock playground outside of Utah. Voted as one of America's Best Bike Shops, what better place is there to get your caffeine fix than Sedona Bike & Bean?