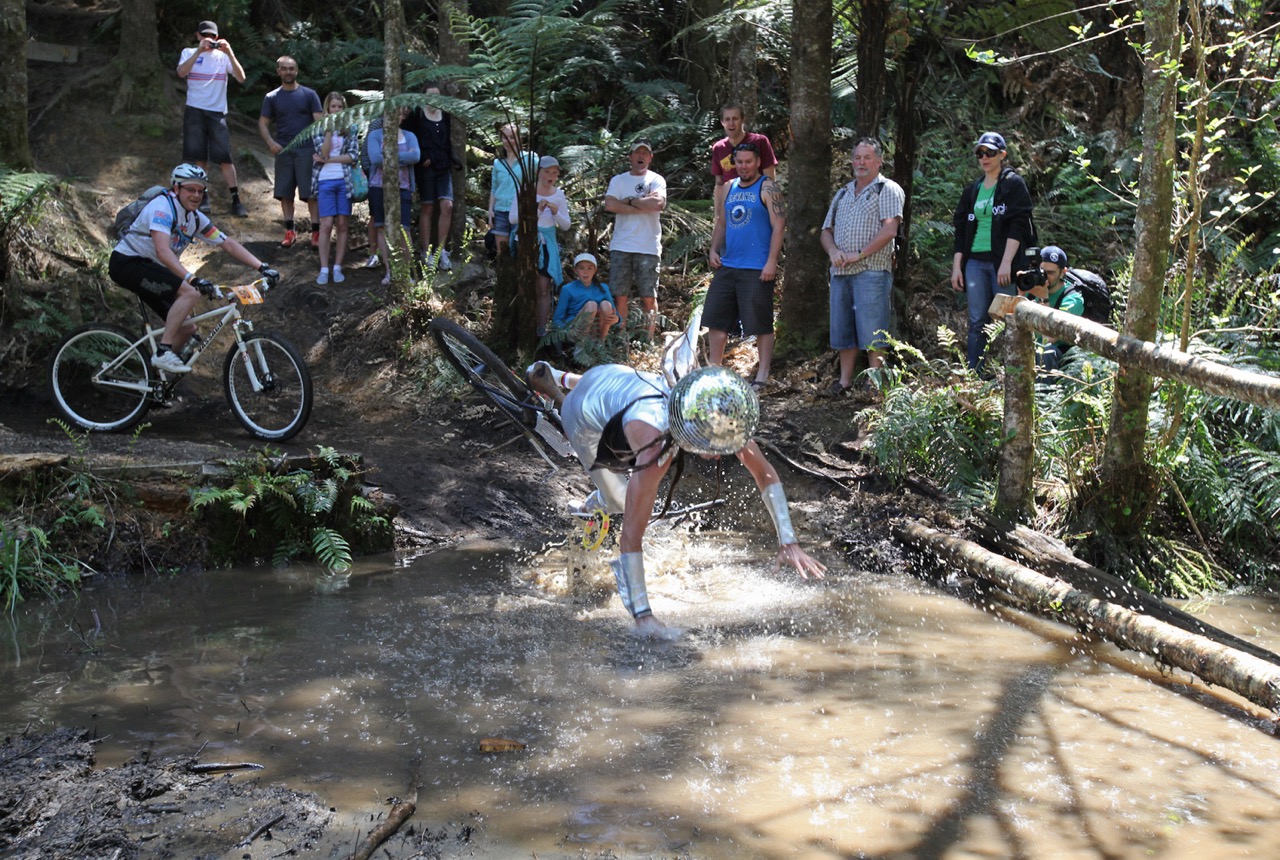 It'll be a battle between one of the legends of singlespeed racing in New Zealand and a young gun at the Anzac Singlespeed Championships in Rotorua, this Sunday.
Think of the physically demanding discipline of one-geared mountain biking and Garth Weinberg's name will come up, immediately. He's a multiple New Zealand champion and won the world singlespeed title on his hometown trails in Rotorua, in 2010. The build-up to this year's Championships hasn't been ideal for him.
"I'm about 85%, my back is wrecked, again, and work's interfered with my lunchtime rides," he reflected, as the countdown to the event ticked down to race day. "If it was a month earlier, I'd have been more comfortable."
Challenging Weinberg will be another Rotorua local. New Zealand cross-country representative, Carl Jones, will be on the start line.
"Carl is a powerhouse of mountain biking," Weinberg continued. "There's no way to combat him unless he gets caught up in a dodgy start or is susceptible to Jedi mind-tricks."
Jones' teammate, Katie O'Neill will also be a starter. "We just wanted to dress up and have some fun," said Jones. "Katie is still recovering from injury and working full-time, so races like this give her something to focus on a few weeks at a time, and I'm just cruising, doing anything that pops up."
The courses for singlespeed events are kept secret till they are marked out the day before.
There is only one rule for the course designers, Haedyn Borck and Damian Pootjes. They have to include a stream crossing on Rosebank Trail. This is a prime spectator spot, just over the bridge from the main trailhead into the Whakarewarewa Forest at the Waipa MTB car park, just south of the city.
"We always get great crowds there," said Paul Laing from host club, the Rotorua Singlespeed Society. "And there's always plenty of over-the-bars carnage into the stream to keep people entertained and making noise."
Another feature of singlespeed racing is the colourful costumes.
At the 2013 Pig and Whistle New Zealand Singlespeed Championships in Rotorua, the hands-down winner was Wayne Gedye from Whanganui. He was dressed in full scuba gear and flippers. He completed all three 11-kilometre laps of a very difficult course in this get-up.
He'll be back on Sunday, along with a big crew from Australia and riders from all over New Zealand, who will be chasing the men's and women's winner's tattoos.
"Or not. Most riders will be there for the laughs, the on-course beverages, the socializing at prize giving and a big Kiwi fry-up on Monday at the Pig and Whistle," added Laing. They'll be happy to do well and finish 2nd equal. That's the real spirit of singlespeeding."
The weekend begins with a dawn ride from the Pig and Whistle to the Anzac Day service at Ohinemutu Marae on the shores of Lake Rotorua.
"You don't have to be a singlespeeder to join us," Laing continued. "Being the 100th anniversary of Gallipoli we want to get a big turn-out on a very important day for our country and Australia."
Online entry for the championships is open at www.rotoruasinglespeed.com till Friday.
There will be cash-only registration at the Pig and Whistle on Saturday afternoon and race HQ at Waipa on Sunday morning with the race starting around 10AM.