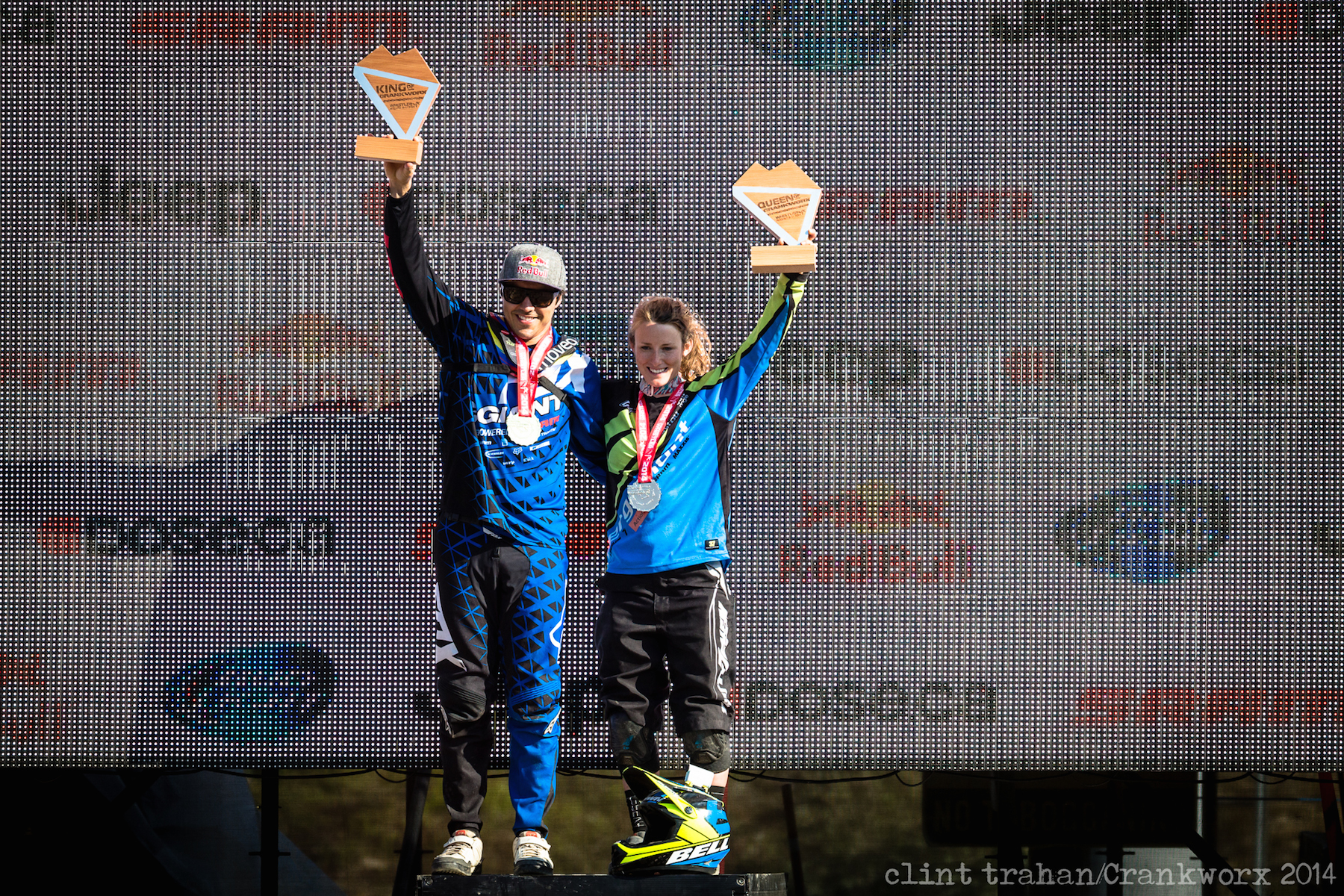 New year, new challenges, new game-changer for gravity-fed mountain biking
ROTORUA, NZ, Feb. 20, 2015 – The winners of the Pinkbike 2014 Game Changer of the Year Award are ready to shake up gravity mountain biking with the launch of the Crankworx World Tour.
In August, Crankworx Events Inc. announced it would add a third location to its global brand, opening the door for the 12-year-old festival to become a three-stop world tour staged in Rotorua, New Zealand, Les Deux Alpes, France and its Canadian hometown of Whistler, B.C.
Several disciplines within the tour will now hold Crankworx Series titles, including the marquee event of Slopestyle, with athletes vying to win each event and the overall title.
Three-time Red Bull Joyride champion Brandon Semenuk is stoked with the new series.
"Crankworx Whistler has always been what Slopestyle is to me; they've always had the raddest course. To see a series that has similar courses is what I've always wanted to see.
"Instead of riding a bunch of other courses, I'm just going to do the Crankworx events because that's what I'm most stoked on."
Should Semenuk, or any other athlete, win all three Crankworx Slopestyle events, he will be awarded the all new Triple Crown of Slopestyle and earn an unheard of $50,000 (NZ$53,000) in prize money.
The Downhill (DH), Pump Track and Dual Speed & Style disciplines have also been awarded Crankworx Series distinction, creating the Crankworx DH Championships, the Pump Track Challenge Series and the Speed & Style World Championships.
In addition to these individual competitions, an overarching battle to crown the King or Queen of the Crankworx World Tour will wage all season long as one man and one woman strive to become the best all-round mountain bike athlete. Crankworx Whistler has always recognised an outstanding male and female athlete with a coronation at the conclusion of its festival. The new King or Queen of the Crankworx World Tour ups the ante to recognise the male and female rider whose skill and versatility dominate on a global stage, and the prestigious title comes with $25,000 (NZ$26,500) for both King and Queen.
Jill Kintner, two-time Queen of Crankworx Whistler and four-time Crankworx Whistler Pump Track Champion says: "For me personally, having competed in so many different disciplines, the fact that Pump Track, Dual Slalom, DH, and Enduro all go towards an overall (title) should really play to my strengths. It's a race within several races, and seems like an overall skills omnium – which is a cool concept."
Crankworx World Tour manager Darren Kinnaird says prize money for athletes who make the podium at all Crankworx festivals will be the same for men and women in 2015.
"It was just time. There are amazing things happening on two wheels right now and we should be able to recognise women for the feats they accomplish on an equal footing to men. Hopefully, this will encourage more women to get involved in competitive mountain biking."
The Crankworx events included in the race to be named King or Queen are:
Crankworx Rotorua: Australasian Whip-Off Champs, Mons Royale Dual Speed &Style, Rotorua Pump Track Challenge presented by RockShox, Crankworx Rotorua Downhill presented by iXS, GIANT Toa Enduro, Crankworx Rotorua Slopestyle
Crankworx Les Deux Alpes: Official European Whip-Off Championships, Les Deux Alpes Pump Track presented by RockShox, D.S.&S., Crankworx Les 2 Alpes Slopestyle, Les 2 Alpes Downhill part of the iXS European Cup
Crankworx Whistler: Fat Tire Crit, CLIF Bar Dual Speed & Style, SRAM Canadian Open Enduro presented by Specialized,  Fox Air DH, Official Whip-Off World Championships, Ultimate Pump Track Challenge presented by RockShox, GIANT Dual Slalom, Canadian Open XC, Canadian Open DH presented by iXS, Garbanzo DH, Slopestyle at Crankworx Whistler
Crankworx runs March 25-29 in Rotorua, July 9-12 in Les Deux Alpes, France and culminates a 10-day celebration of mountain biking in its Canadian hometown of Whistler, B.C.