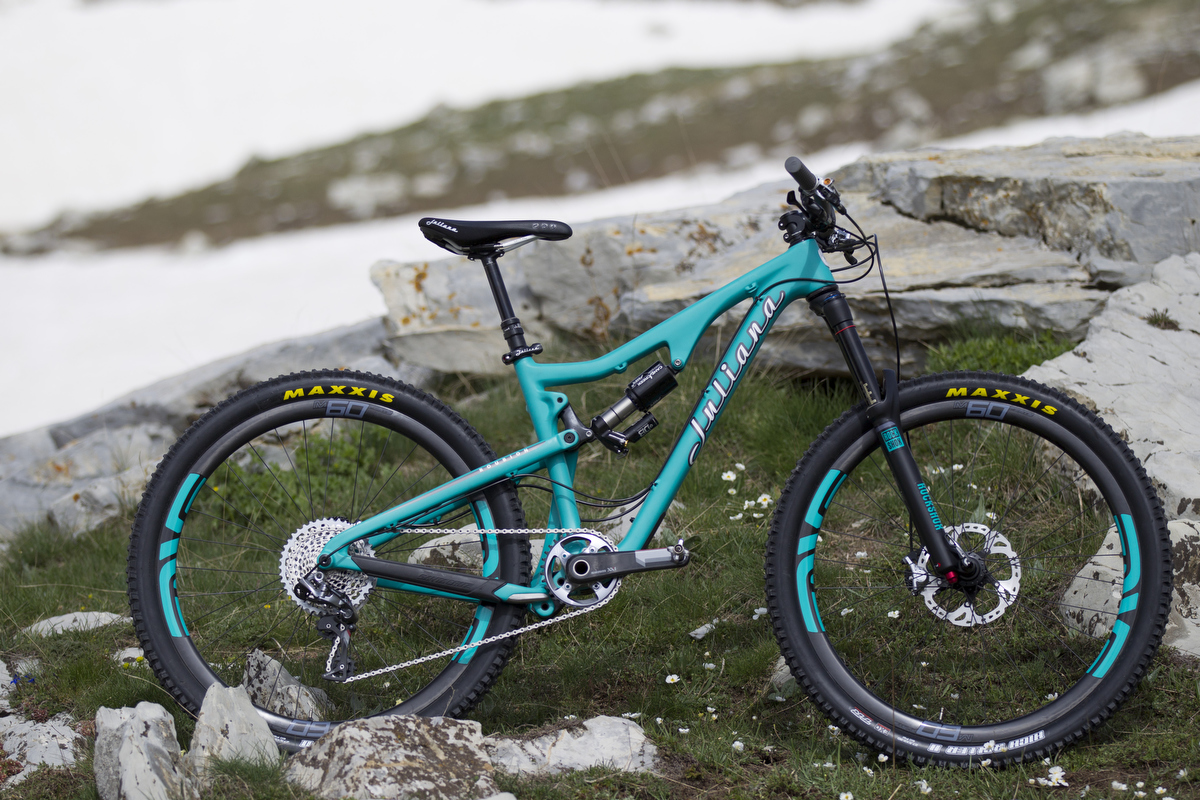 Juliana Bicycles are about to drop their new 150mm Roubion at the EWS round in Peebles, Scotland tonight our time. Juliana Brand Manager Katie Zaffke checked in and gave us the heads up on the sweet looking ladies' trail slayer.
"Hello from Peebles, Scotland!
We just spent a week in Roubion, France where we shredded the epic trails of the Trans-Provence race on our all new Roubion. Now, we're officially launching the bike here tomorrow during the TweedLove mountain bike festival. It'll be on display during the EWS festivities, as well as at the Fort William Downhill World Cup next weekend. In the meantime, here's some pics and info for you.
We've teased the public with the Roubion for over a month now during our "Show Us Your Roubion" contest. I think they're ready to start shredding our most decked out bike yet. We know we are."
ROUBION:
The Roubion is ready to handle anything your all mountain adventure can throw at it. Race-proven by Anka Martin after winning the Trans-Provence, the Roubion is named after Anka's favourite stage of the epic French event.
Designed by the carbon fiber experts at Santa Cruz, the lightweight carbon frame blends 150mm of suspension travel with incredible pedalling efficiency thanks to its Virtual Pivot Point (VPP™) technology.
Available with high end kit options and upgrades such as carbon ENVE wheels and Cane Creek's Double Barrel Air shock, this decked-out Juliana model is set to continue its winning streak. A lush matte Evergreen paint job completes the look and can be colour-coordinated with a range of accessories from our friends at Giro.
All the brawn of a Bronson in the spirit of Juliana, the Roubion stands at the forefront of women's mountain biking.
KEY FACTS
• 150mm travel VPP suspension.
• RockShox Pike RCT3 Solo Air 150mm fork.
• 27.5″ wheels.
• Sizes: S, M, L.
• Colour:
• Carbon: Evergreen with grey/white decals.
• ENVE decals in Evergreen.
• Shock options:
• Standard: Custom tuned Fox Float CTD Adjust Factory with Kashima Coat.
• Upgrade: Cane Creek Double Barrel Air.
• Choose from XO1 and XX1 options.
• Weight
• Total frame: from 5.5 lb (for size M, carbon).
• Complete: from 25.8 lbs (for size M, carbon, XX1 ENVE w/Fox rear shock).
• 142 mm rear axle spacing.
• 2 x bottle cage mounts.
• Forged upper and lower links.
• Double sealed pivots with grease ports for low maintenance.
• Collet axle pivots and angular contact bearings maximize stiffness.
• Standard or direct mount rear derailleur hanger option.
• Carbon ISCG-05 tabs for chain guide compatibility.
• Stealth and external seat post cable routing.
• 73mm threaded BB: creak-free riding and easy installation.
• Molded rubber frame protection
FRAMES & COMPLETES
Frame Only:
• Roubion C Float CTD Adjust
• Roubion C CCDBA
Complete Bikes:
• Roubion C XO1 + Rockshox Pike RCT3 150mm Solo Air
• Roubion C XX1 + Rockshox Pike RCT3 150mm Solo Air
• Roubion C XO1 ENVE + Rockshox Pike RCT3 150mm Solo Air
• Roubion C XX1 ENVE + Rockshox Pike RCT3 150mm Solo Air
• CCDBA Upcharge
WARRANTY
• 5 year warranty for original owners.
• Lifetime bearings warranty for original owners.
• Lifetime crash replacement warranty for original owners.
AVAILABILITY
• ETA early July, 2014
• Taking orders June 15th