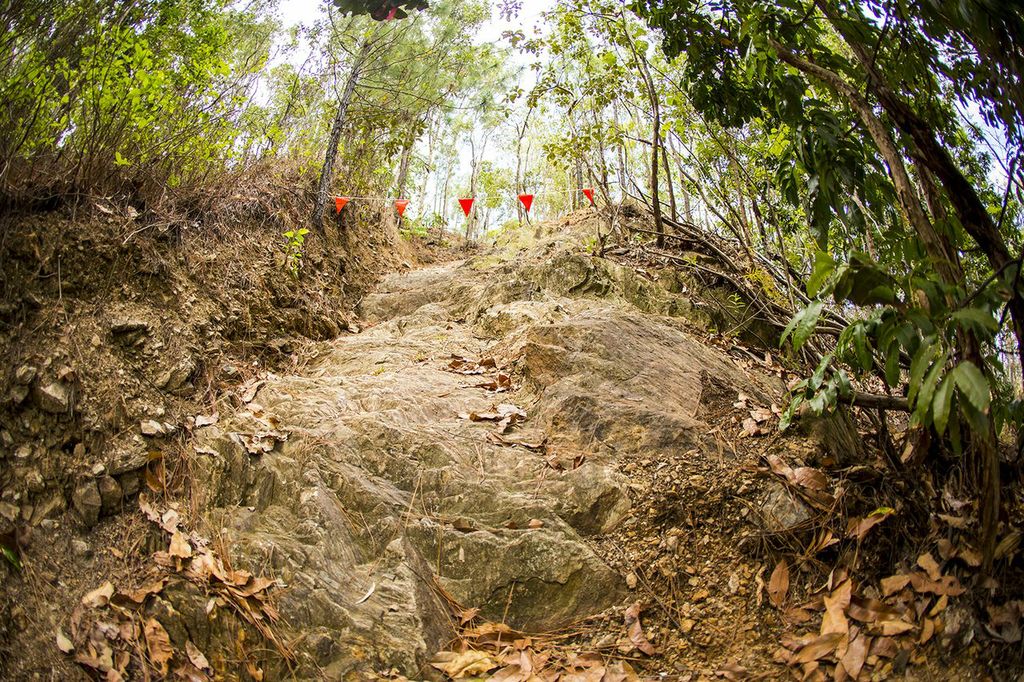 Photos by Tim Bardsley-Smith

Back in 1994 and 1995, Cairns hosted two World Cup XC rounds and the World Championships in 1996. Twenty years on and the same venue at Smithfield has been undergoing a resurrection in preparation for World Cup races in 2014 and 2016, and the Worlds in 2017. A select few magazines and media got to take a sneak preview of what's in store, and Spoke was privileged to be a part of the famil hosted by Tourism Tropical North Queensland.
Having been at the 95 and 96 events, it was interesting to revisit the city and see what spin Glen Jacobs and his crew at World Trail have put on the old courses. Much of the XC and virtually all of the downhill is based on the original outlay from back in the day, with improvements made to bring them in line with modern requirements. And the unanimous verdict from all… there's going to be some great racing and spectating come April next year!
We started out the morning with a look at the XC course; much of the course is still under construction, so it was walking rather than riding on the agenda. And from the toughness of the walk, it's clear the winner of the cross country will have to be a super climber with plenty of technical ability. While there's little elevation, the short sharp pinches and tough line options throughout the duration of the climb require maximum skills and speed and momentum can actually increase by using the strategically placed features. There is nowhere to rest and nowhere to hide. A lot of the course resembles a big pump track, with multiple line choices through jumps, rollers and descents. Spectators will be able to witness riders several times per lap from the same area without having to move very far.
After lunch we were shuttled to the top of the DH course, essentially the same as the famous 1996 race but updated with some features to bring it into line with modern DH courses. Old school flat-out fireroads mixed with steep rock gardens, narrow rooty singletrack, bermed switchbacks and supercross-style moguls sections where time can be made up in chunks by riders willing enough to link up some creative lines.
Check out ridecairns.com for more info.
http://youtu.be/9-pgdY7CTmI
1996 World Mountain Bike Championships Men's Downhill