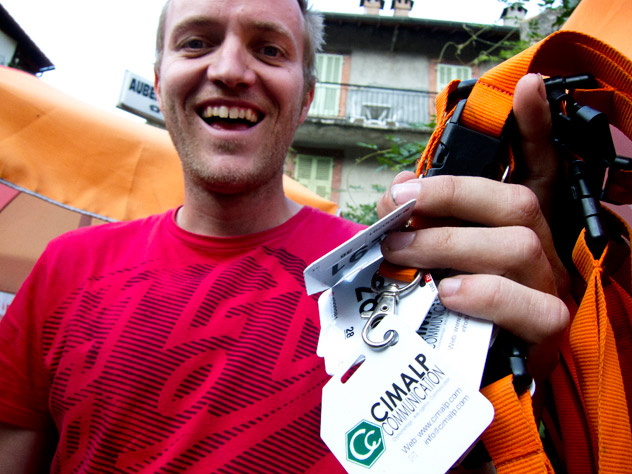 I don't know Ash Smith from a bar of soap, never met him, haven't spoken to anyone who has, but I do know he's a genuine good guy, and he has sculpted his own little piece of 'the dream' on the other side of the globe in France.
Ash is the boss man for the Trans-Provence multi-day Enduro race and from what I've read about him and the brief dealings we've had, he's super passionate about people getting out on their bikes and having some fun, not purely against the clock but just for the simple pleasure of spending time in the mountains with mates.
We caught up with Ash via the wonders of the internet to learn a bit more about what makes him tick….

Who is Ash Smith?
A qualified (somehow?) engineer with an infatuation for topographical maps. A middle-of-the-field mountain biker who likes big mountain days. A 33-year-old family guy with a wife and two kids.
How did you get involved in the MTB scene to begin with, and how long ago was that?
l was never really involved in the MTB scene, and I guess that's because I've always been more of "just a rider" than a racer. I got my first mountain bike at the end of 1990 when I was 11. It was a blue-and-red spatter 1990 Kona Cinder Cone which, for the time, was a pretty capable bike and I was instantly hooked. It's each-to-their-own in MTB but my lack of interest in personally partaking in racing (even if I enjoyed watching it) gave way, from the very start, to what became a big focus on the adventure-weaving side of MTB. So it's twenty-two years (and counting) of wanderlust being ignited, then fulfilled and then reignited. It's a drug-type recurring cycle (or spiral) for me. The more I do it, the more I miss it when not doing it.
Do you have a 'Day job'?
Yes. Organisation of Trans-Provence and other MTB-related activities is my working life.
Where are you based?
Sospel, a medieval market town in the far South-East corner of France. Basically it's where the South-West end of the European Alpine arc finally gives up and dives in to the Mediterranean Sea.
Best thing about living where you do?
Can I choose more than one? No? Okay… for me it's the trails (if I could choose more than one it would be the trails, the people, and the 300 annual days of sunshine).

Explain the Trans Provence in one sentence….
Trans-Provence is my expression of what I think mountain biking should be which, in concrete terms, is the world's first week-long itinerant "gravity enduro" MTB race.
What does a typical Saturday look like for you?
At this time of year when we're not running tours or a race, it's family stuff! Grocery shopping, a hike and picnic, maybe some time at the local kids' North Shore park, trying to teach my four-year-old daughter what brakes are for… plus possibly a 1-2 hour solo ride, but I tend to do most of my riding during the week.
What's your favourite trail and why?
Oh, I'm no good at picking 'favourite trails', there are just so many mind-blowing rides out there to be had. I do, however, always seem to have a 'current trail which I'm obsessing over the most'. At the moment that's a trail—well, a mountain—close to home, called Gramondo. Its summit lies at 1378m right on the French-Italian border about 10km inland from the sea, offering views over the whole French and Italian riviera. From the summit you have an epic singletrack descent, on a wide variety of terrain, right down to the beach. All in all, a fantastic mini point-to-point adventure packed with amazing trails.
What are your plans/goals for the Northern-Hemi winter?
I really need to learn some basic Italian. We live 4km from Italy and I can be found at my most local Italian café at least once a week, mid-ride, either sheepishly asking for stuff in French or just pointing at stuff over the counter …struggling, basically. Given the quality of their cappucino and toasties compared to here in France, it's not realistic for me to stay away, so something needs to happen on the language front. I'm also aiming to keep riding all winter long, at on least low to mid-mountain stuff. There's been pretty big snow up in the Northern Alps but down here in the Maritime Alps, there's been little to speak of below about 1500m and temperatures remain fairly mild. Hopefully it will stay that way!
Favourite MTB innovation from the last 10 years?
Cannondale's "Attitude Adjust" platform. I've been riding a Jekyll for the past month and I just think it makes a big leap forward towards that one-bike-for-everything holy grail.
What's right with mountain biking?
It's coming home. People talk about evolution and making progress, which is great, but I genuinely believe that we're coming full circle and have started to get back to the whole point. Compared to five years ago, from where I'm standing, there seems to be less judgement and polarisation within our sport, there's more acceptance, inclusiveness and the idea (/ideal?) of just getting out and riding for fun and/or adventure is now again part of the furniture. This seems to be good for everyone… riders, industry, media, etc. That's my feeling anyway but I've always been known as a bit of an optimist!
What's wrong with mountain biking?
A severe lack of strong and responsible representation in the governing bodies at both national and international level. A prime example is the handling of the recent doping situation in Enduro here in France. I'll try to stay out of trouble by not going into any more detail on that one.
All time favourite rider?
This is a tough one as I have huge respect for anyone with the natural talent and dedication that it must take to carve a successful career in mountain biking, whatever the discipline. It sounds like a bit of a biased choice because he's a good friend but I'm going to pick Fabien Barel because he is as gifted in communication as he is in riding itself. Fab's ability to break down or "reverse engineer" the physical and psychological aspects of the mountain biking experience into insight about ourselves as humans, and also tools for improvement, is very unique.
Who do you look up to?
My parents.
Any shoutouts/thanks to?
Haha, you make it sound like I've won some kind of award.
If we're on about Trans-Provence, then I would like to thank MAVIC first and foremost. They share our dreams for the discipline of MTB Enduro, they believe in what we do, and they provide us with the support crucial to the event's ongoing existence.
I would also like to thank CANNONDALE, MOJO SUSPENSION & FOX SHOX whose partnership in Trans-Provence is invaluable.
There is also a huge list of individuals to be thanked for their help and input over the years. I'm not sure there's space to mention all of them here but nevertheless, I'd like to say a public thank you to three people who, from the very beginnings of the concept, have believed in and supported Trans-Provence. They are Rob Hamilton-Smith, Greg Germain and Matt Letch.
Finally, many thanks to spokemagazine.com for this opportunity. It's much appreciated!