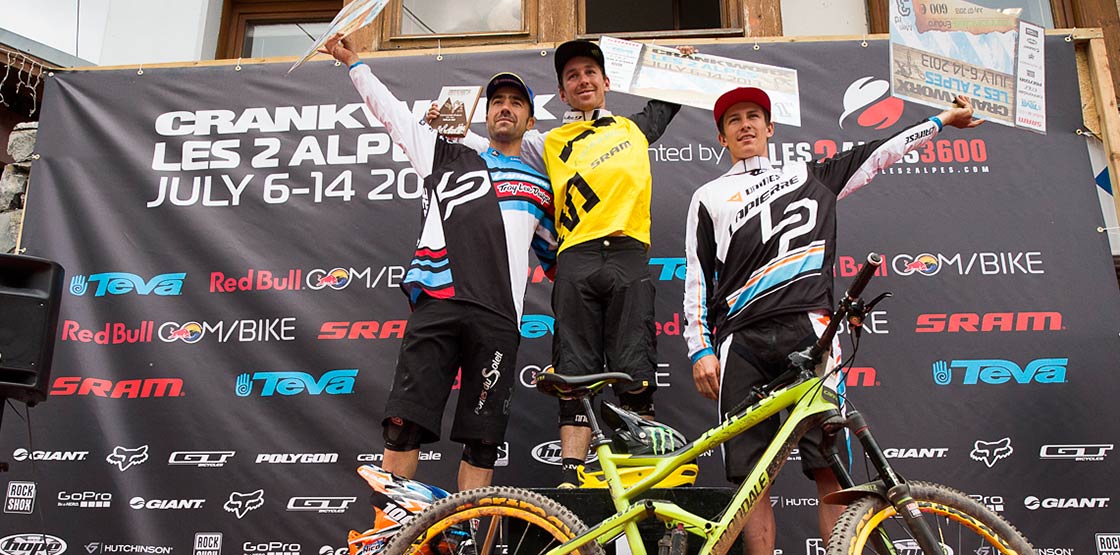 After third round of Enduro World Series, Clementz and Moseley in Overall Series Lead. After a puncture in Val d'Allos left him off the podium, Enduro World Series' favourite Jerome Clementz (Cannondale Overmountain) took a commanding 25 second lead in the early part of today's Cannondale Enduro Les 2 Alpes race and held the advantage to finish in number one spot. It was the decorated enduro athlete's first win of the Series.
Team Lapierre's Nico Vouilloz and Sam Blenkinsop came second and third. Jared Graves (Yeti) put into top 3 finishes to regain ground after a mishap in stage 1. Fabien Barel's podium hopes after his Round one victory in Punta Ala were once again frustrated by a puncture.
In the Women's race, Tracy Moseley (TREK Factory Racing) continued to dominate the Series, taking her third victory in a row, ahead of Cecile Ravanel (GT Skoda) and Emmeline Ragot (Team Lapierre).
Loris Vergier (Team Lapierre) proved that Junior Series leader, Martin Maes (GT Factory Racing) can be beaten, using a 26 second lead from the first stage to vault into first place. Both Junior racers put in times that challenged even the fastest men. After dominating the series so far, Maes' vulnerability may have been revealed, but he retains the overall junior lead.
The third round of the Enduro World Series, held during the opening weekend of Crankworx Les 2 Alpes, July 7, saw the steepest and most technically demanding course of the Series yet, with four stages, all chairlift accessed, packed into a single grueling day of racing.
"We couldn't have had three more different races," said Tracy Moseley . "Everything has been tested. This one was tough."
"Tough" was a word that got a work-out over the weekend, as did the athletes.
Enduro World Series Managing Director, Chris Ball, says, "That was a big course with huge challenges, both physical, mental and technical. I'm blown away once again by the riders, their speed, strength and commitment."
The Official Highlights Show from Dirt TV will be available Tuesday. Highlights from Saturday's practice and an introduction to Cannondale Enduro Les 2 Alpes, featuring a who's who of the world's best riders, can be viewed now at http://www.enduroworldseries.com/video.
Next, the Enduro World Series moves on to Winter Park, 27-28 July, where racers will face another set of conditions and challenges, in Colorado's smooth, flowy, high-altitude terrain, and the contest for the Enduro World Champion continues.
About the Enduro World Series
The Enduro World Series was created in October 2012 with the aim of uniting the world's mountain bike enduro racing community. The Enduro World Series links the largest mountain bike enduro events in the world with the best trails possible and exists to deliver the best racing, most relaxed atmosphere and rider-focused organization possible. The team behind the Enduro World Series has one goal – to globally develop and progress the discipline of enduro for the riders, the sport and the industry. With the shared experience of Italian Super Enduro, French Enduro Series, Crankworx and World Cup racing, the Enduro World Series will offer international competitions unlike any before it.
DirtTV: Enduro World Series Rd 3 Les Deux Alpes Practice a Mountain Biking video by orpheusproductions
The Enduro Mountain Bike Association's (EMBA) Board of Directors is supported by an industry Advisory Board, to reflect and respond to the riding community, that includes Santa Cruz Bicycles' Rob Roskopp, SRAM's Jeremiah Boobar, Fox Shox' Mark Fitzsimmons and riders Tracy Moseley, Jerome Clementz and Curtis Keene.
For more information, follow the Enduro World Series on facebook www.facebook.com/EnduroWorldSeries or email Chris Ball, Managing Director: chris@enduroworldseries.com