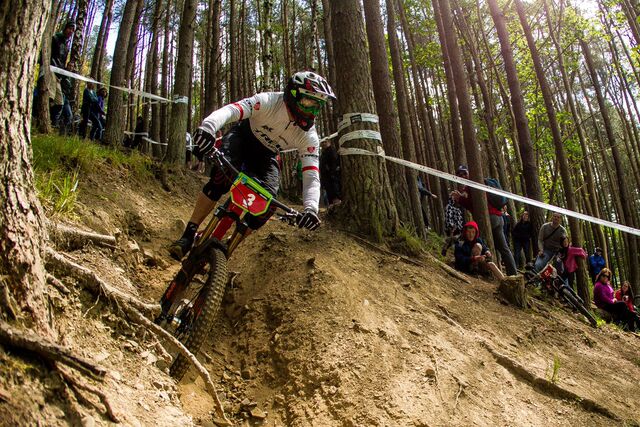 With back to back EWS weekends I think everyone knew it would come down to who could recover the best from Ireland. It was in Peebles last year where I managed to score my first podium ever and with two days of racing so much can happen, so it's an exciting race. Coming from near perfect conditions in Ireland it was almost a given before I checked the weather forecast that we would see some typical Scottish weather over the week. It was pretty much what we expected but with extreme changes; we would see everything from blue skies to sideways rain with ice, axle-deep mud to fresh dusty loam!
The week would see a lot of woollen clothing, rain jackets and waterproof gloves, and our nutrition requirements would be huge this week.
So with the Tweedlove EWS there are basically two aspects: day one on the Innerleithen side and day two at Glentress, a few kilometres up the road. The first day at Innerleithen would see the more DH style trails; we would start with a physical stage but once through that it would be tight trees, tree roots and who could stay on. Day two on the Glentress side would have a mix of technical stages in the woods and flat out hammer to the wall endurance stages. This is where I learnt last year the race is won or lost and carrying speed while being in top physical condition would really make the difference. With these facts I had a simple game plan. Get through day one without any major dramas and then put all my energy into day two where the freshness would pay off.. Hopefully!
Practice this time around was over three days, which allowed a day on each side and one day of 'choose whichever stage you want'. Learning these courses requires energy and there's always the fine line of how many times you want to climb back to practice versus saving the energy with a single run. This time around we chose to ride both stage 1 and 2 twice and then a single on stage 3 and stage 4. For a first day of practice this was around 2000 metres of climbing. Getting the morning done with mild conditions we soon got to experience our first weather patterns coming in and rain showers to play in. For the second day of training we would see rain on and off all day. This would break into blue sky moments at about a ratio of 20 minutes of dry to 10 minutes of wet. The climb back out from stage 5 would also show us sideways rain and being blasted by ice which felt like being on a windblown sandy beach! Today we opted to start with a single on stage 6, then ride stage 7 twice then stage 8 and finish with a couple of stage 5. This meant we could learn the fresher DH style courses and save energy on the longer more physical stages by only riding once.
After our morning roll down stage 6 it was evident this would be a key stage. It was nearly 13 minutes long on the camera footage and had three decent climbs which would totally break up the field. I knew there would also be some controversy about this stage. It was so physical and basic in terms of technical aspects that some people would be struggling to be able to handle it. Nonetheless I was happy; physical is what I train for as well as technical. We're not just racing downhill. Enduro is meant to be, in my opinion, a mixture of both.
 With another 1800 metres climbed today in the rain I was starting to feel the body once again. The morning of the last day of training I was feeling quite tired so I canned my original plan of a run on stage 1, 3 and 4 and opted for a single run on stage 1 and then put the feet up and rest the remaining day. It was the right call for me and by evening I was feeling human again and ready for the abuse I was going to get the following days.
Race Day 1: Innerleithen 4 stages with a forecast of blue skies! Happy days. With around seven hours from start to finish, this would be a stress free day in terms of liaison times. Each stage would allow us to cruise up and not have to drop the hammer at any point in the day to make a start time. Beginning on Stage 1 this would have us pedal straight out of the gate and then hit awkward speed-zapping rocks before settling into the run on freshly cut wooded sections and steep chutes. It was a bit of shock to the system for first stage of the day and for some reason I felt a bit flustered. Crashing on a right hander near the top of rocky section I instantly swore to myself and pushed on for the rest of the run annoyed. Not the start I had hoped for.
Stage 2 was wide open fast and some bar-grabbing trees which were damn close at high speed. I liked this stage a lot and felt good in training going fast. This time around I threw down a fast run without crashing and slotted into 2nd for the stage behind Richie Rude. Back on track. With a timing check and a feed station I didn't bother refilling my bladder as there would be water 30 minutes up the next climb at another feed station (well, at least I thought there would be). Arriving there I was gutted to see all the water had gone and I would be on my own for the next hour before they hopefully refilled the water if I was lucky!
Stage 3 was flat out fast up top above the tree line then a moment of darkness as we entered the woods. Clear and sharp vision is essential in our sport, and in such conditions even more so. A high quality lens is a must. I had a clean run with no mistakes so another one checked off and happy for the final stage of the day. Climbing back up for stage 4 had us pass the previous empty feed station once more. Luckily for me this time there was water and I was a happy man. Neglecting fluid is something you never want to do in these races.
Final stage of the day and this one would race us further down the hill than stage 3.
It would be similar terrain with tight woods and plenty of roots to deflect the wheels off line. Unfortunately for me it wasn't to be a clean run and although I felt my riding was well under control, I misjudged my speed into a right hander and down I went for the second time of the day. Finishing the stage I was annoyed again with myself for giving up some more time to leaders. Official time check would show I was 20 seconds down for the day behind Richie Rude and in 9th position.
Frustration didn't last long though and my focus changed to day two and how I would need not only a clean day but there would be no way I could leave anything on the stages. #fullgas! I woke on Sunday to read some really disappointing news. The event would be cut from four stages today down to two due to some predicted weather and high winds that could potentially bring trees down in the forest. I could totally understand the safety aspects and knew the call needed to be made but still, I was gutted. I thought at this stage I could bring back enough time in two stages to maybe get back to a podium finish but that would be riding the socks off it so to speak. I thought my chances of being able to win would be a far push.
Setting off for the day we had much colder conditions than our previous day of blue skies. Cold winds and rain showers reminded me of the practice days before and with only stage 5 and stage 8 it was going to be super short day in the elements. Stage 5 would be a short fresh downhill stage that finished on slippery roots. The ruts were deep in practice so everyone was going to have a mission of a stage for the race. It didn't take more than a few corners before I realised this was going to be a tough one to stay clean. The mud was incredible; every rut wanted to grab your wheels and if you slowed your speed down too much the mud was so thick it could throw you off as well. It was one of those stages you had to go fast and hold on and whatever you did, keep your feet on while in the ruts! I managed a fast clean run and 3rd for the stage. Richie had had a real problem in this stage losing his lead, and with my clean run I had moved up the ladder to around 5th. I needed to empty everything I had for the final stage of the day if I was to achieve my goal of clawing myself back into a podium position.
There was a couple of key points to stage 8. It started further up the hill than previously planned due to the day being shortened. It now would have about 2 minutess of stage 6 on the start of the stage and this is all bike park style corners where speed carrying is really important. We then would climb a short section before hitting the wide open part of the run where it got fun! The middle of the run was again all about carrying your speed through flowy turns before the most aggressive short climb followed by a fireroad downhill and then grind up the last short hill to a fast and flowy descent to the finish. I needed to be aggressive for this one and I planned to hurt myself massively on the pedalling. I would say this run was on the edge for me; I had some moments where I was flying by the seat of my pants but just held it together and then the hurt I put through my legs was incredible. This was one of those runs when I was in constant fight between
wanting to stop pushing so hard because it hurt so bad and the desire to want to win so bad it pushed me to hold it at the absolute limit. I remember the feeling of not enough oxygen as I crossed the finish line but with nothing left on the stage I was totally happy with my day and super exited to see how I had done with the weekend's standings.
A short 10 minute ride back to the finish arena and with the final time check I couldn't
believe what I was seeing on the timing board. I had bloody done it! I had brought back not only enough time to hit the podium but had just sneaked past Florian Nicolai and Greg Callaghan to take my first ever EWS victory! It was my biggest dream come true. I was speechless, although it didn't really sink in until the podium and hearing my name called out as the winner. I couldn't wipe the cheesy grin off my face. What a bloody weekend and what a bloody day!! Taking over the series lead from Jerome was another unexpected surprise and with a dominant ride from Tracy and another solid ride from Rene once again we were the top team for the weekend. You just can't ask for anything better than that!
I feel hugely proud to be series leader. It's something to hold with respect and I've always looked up to the riders holding it. Heading into a short break it's now time to have a regroup and freshen the mind and body again. The next round in France will be another battle and will have its challenges but getting back to the higher mountains is something I'm really looking forward to and seeing some long stages again will be a lot of fun!
See you out there.