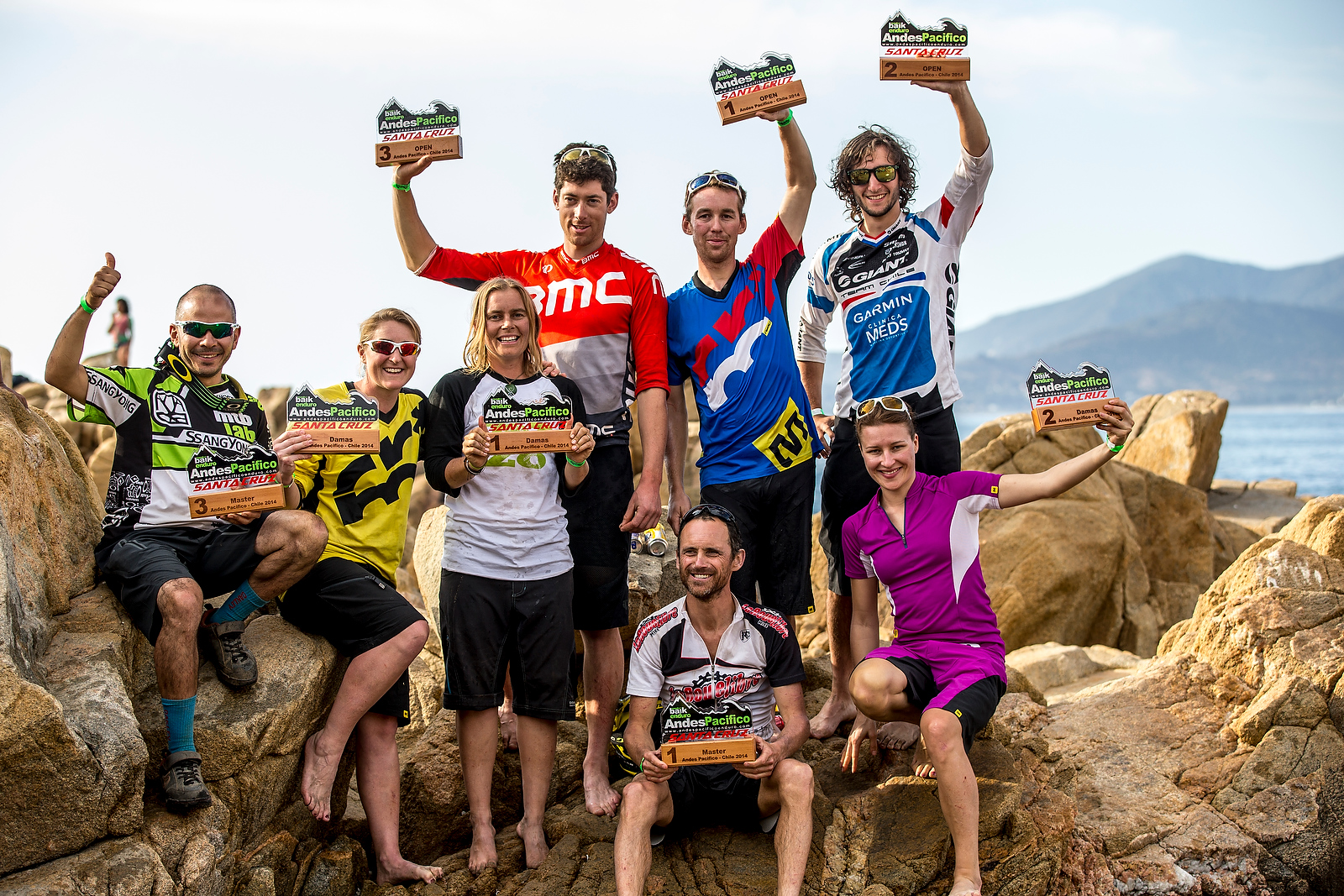 Yesterday after four days of competition and three special stages the Andes Pacifico moved to the Pacific ocean. The first SS, "Ojeda " was known to Chileans who raced the last date of the Montenbaik Enduro 2013 in Puchuncavi. A lot of switchbacks and rocks were a real surprise, as was the cloudy sky which helped to lower the temperature. In this PE Jerome Clementz won with a time of 8:24 ahead of his closest rival François Bailly-Maitre, just a second further back. In Damas, Anka Martin continued her supremacy with a time of 10:13.
The second PE was something new for everyone. With a link between eucalyptus forests and a totally different descent through native forests which many rock ruts that made competitors fly to reach the sea. Clementz here again showed his supremacy taking home the special test followed by Pedro Ferreira who was finally starting to get the pace he wanted.
Who would take second place? Nico or François? This PE was marked by an fast and entertaining trail through native forests that left a smile on the faces of all competitors. Here again Clementz continued his total stage domination, taking the stage with a time of 7:35. Meanwhile Nico Prudencio did his best SS of the day and finished second, nine seconds behind Clementz, meanwhile François  ended three seconds behind Prudencio, assuring a second place for the Chilean  in the final standings.
Finally Frenchman and Enduro World Champion Jerome Clementz  won the inaugural Santa Cruz Montenbaik Enduro – Andes Pacifico, which began last Wednesday in La Parva, ending in Maitencillo in the Valparaíso Region.
The French rider led the race from start to finish, confirming his supremacy. He disputed thirteen special stages, beating current monarch Chilean Nicolas Prudencio by 3 minutes and 59 seconds. Prudencio lashed out at the last stage, bumping French rider Francois Bailly-Maitre into the third step by just six seconds.
Meanwhile, the Women's category was won by Anka Martin, followed by French rider Pauline Dieffenthaler, and Julia Hobson from Britain.
Finally in the Master series, the honours went to Frenchman Francois Dola, sharing the podium with the prominent Chilean specialists Claus Plaut and Felipe Vásquez.
We leave you with photos by Sven Martin, Gary Perkin, Dave Trumpore and Claudio Olguin.
The results may be found on : http://montenbaik.com/Resultados/