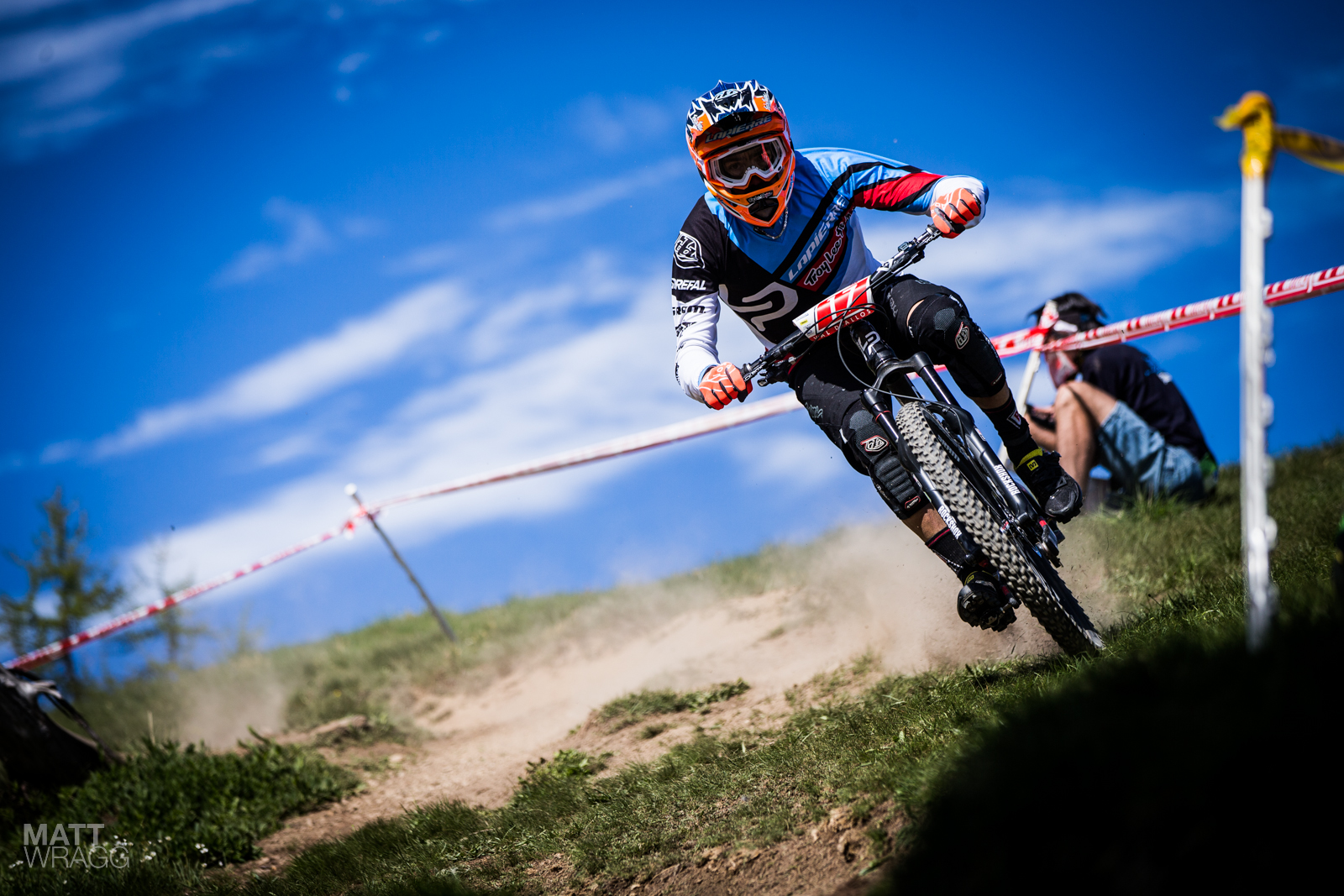 "Battle" does not begin to describe the weekend's epic racing at Val d'Allos, France, that ultimately saw Nico Vouilloz and Tracy Moseley win after an all killer no filler 6 stage course and exhilarating showdown between the world's top riders.
The birthplace of enduro treated over 300 riders to distractingly gorgeous scenery, chairlift supported liaison stages, and 6 timed sections that, in addition to 5 practice runs, yielded 11,000 meters of technical, challenging and physical descent.
Dropping 1000 meters from the 2500m summit for each stage meant altitude played a factor for riders. Coming off his victory in Round 1 of the Enduro World Series, Fabien Barel commented that within two corners from the start of the first stage in Val d'Allos, he was already out of air.
Genepy, the locally crafted spirit, was needed by the weekend's conclusion, as riders celebrated and commiserated over crashes and punctures that left the podium wide open. Race favourite, and leader at the time, Jerome Clementz (Cannondale OverMountain) suffered a puncture in stage 3, as did Fabien Barel (Team Canyon) and Dan Atherton (GT Factory Racing). Other top contenders, including Ben Cruz (Cannondale OverMountain) and Josh Carlson (Team Giant Factory Racing) had crashes that put them out of the race. Jared Graves and Anneke Beerten both crashed twice in the long fourth and fifth stages, but managed to hold on to their positions on the podium.
In the end, consistency favoured Tracy Moseley (Trek Factory Racing), the winner from Punta Ala, in the women's race, ahead of Cecile Ravanel and Anneke Beerten. Moseley now holds the Overall Series Lead.
Nicolas Vouilloz won the men's contest at Val d'Allos, with Jared Graves hard on his tail and downhill World Champion Greg Minnaar stepping up to the podium with a 3rd place finish.
Graves takes the Overall Series Lead from Fabien Barel who will need to push in future events to regain his place. Series favourite, Jerome Clementz was on damage control for his series standings after suffering the puncture.
Martin Maes (GT Factory Racing), the young phenom from Belgium, retained his commanding lead in the Junior division, despite a crash on the first stage, and a 30 second time penalty for course cutting on stage 1.
Taking the top 3 results from team riders in any division puts Trek Factory Racing in the Team Series Lead with 1820 points.
With less than 10 seconds between the top male riders after 2 days, 6 stages, 11,000 meters of descending and an hour on the clock, it was sheer grit that dominated.
Says Enduro World Series Managing Director, Chris Ball, "The one run, limited practice format definitely evened things out between experienced locals and the first timers like Graves, Wildhaber and Minnaar. The times were just incredibly tight. Even on stages that were over 15 minutes long, the riders were within a second of each other. It was savage, intense racing. I personally can't believe just how close it was."
From the birthplace of enduro, the Enduro World Series stays in France for the next round, moving on to the gravity playground of Crankworx Les Deux Alpes, July 6-7, where the battlefield will be refreshed with a 4 stage course, incorporating the mountain bike park.
**Kiwis Justin Leov, Rosara Joseph and Sam Shaw had good days, with J-Lo and Rosara both 6th and Sam in 29th. Honorary Kiwi Anka Martin ended up 11th, while Jamie Nicol suffered a flat which put him off the pace.