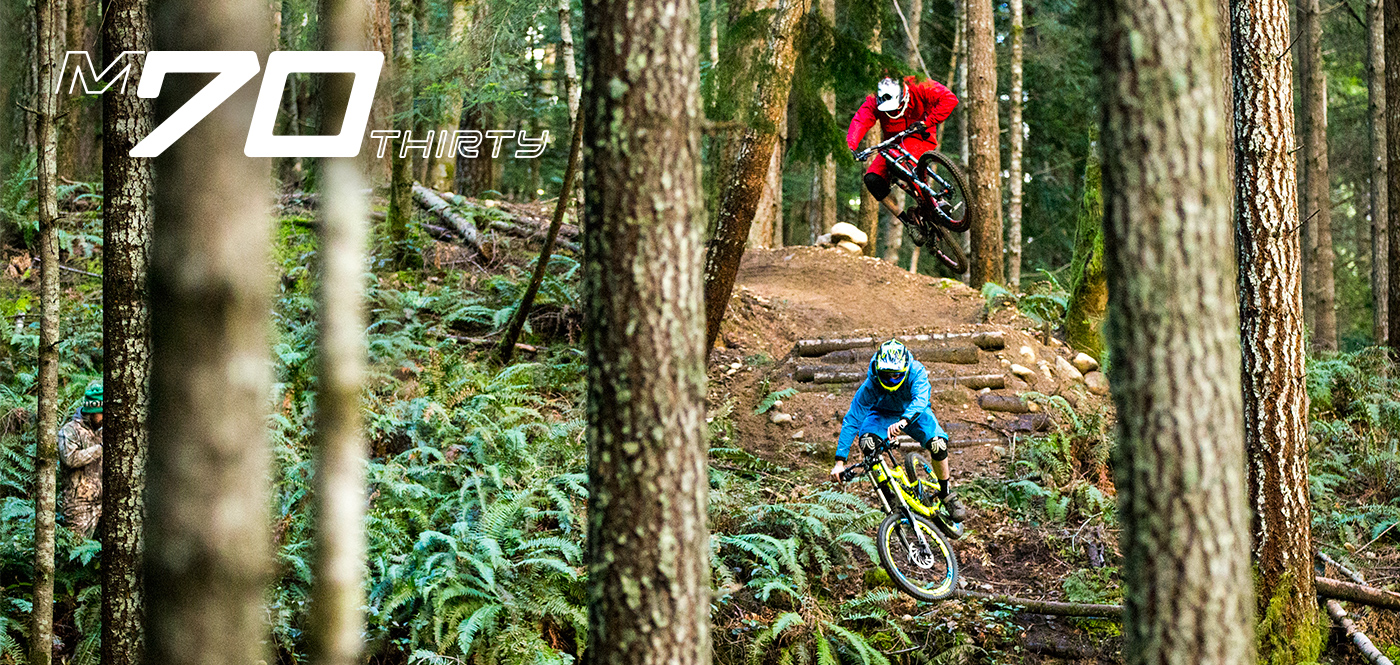 When the Santa Cruz Nomad video came out last week there were a couple of products in the mix that were not even released at the time, one being the DebonAir rear shock from RockShox and the other being Enve's new wheel range. The new mountain bike wheel line represents over 6 years of research and development to create a better mountain ride experience. Each model in the ENVE M Series is designed with a specific rider profile in mind. In the past ENVE had classified riders into three general categories, a one size fits all XC, AM, and DH designation that worked well for some but left others wondering where they fit. The new ENVE M Series features four completely new models that classify riders by the ride style that they most closely identify with. Each rim model is designated by a style ratio that represents a rider's inclination towards descending vs. ascending, its pretty bloody simple really: M50fifty (50 % Descend/ 50% Climb) M60forty (60 % Descend/ 40% Climb) M70thirty (70 % Descend/ 30% Climb) M90ten (90 % Descend/ 10% Climb). Check out all the official info below, start saving (wheels are here in a few days) and work out which wheel you need!
ENVE is pleased to announce the MSERIES, a game changing collection of mountain wheels featuring four rim models developed for specific rider profiles. These four models consider a rider's propensity towards descending versus ascending and are named accordingly.
Each model in the MSERIES features a revolutionary design that results in a lighter, stiffer, stronger, and more predictable rim. Fundamental in the design of each new rim is a structure and shape that provides improved vertical compliance without sacrificing lateral stiffness. "As cliché as it may be to speak of vertical compliance and lateral stiffness, the advancements we have made with the MSERIES rim structures produce that very outcome. The performance benefits are significant in much the same way that dialing in the right tire pressure is," stated ENVE VP of Research and Development Scott Nielson.
The new MSERIES is significantly more impact resistant than its comparable first generation predecessor. Remarkably, the new MSERIES rims are notably lighter than the previous generation mountain rims even with these improvements in impact toughness. For example, the new 29" M50 tips the scales at 320 grams while the first generation equivalent the 29 XC, weighed a respectable 385 grams.
In order to further refine the ride tune of the new MSERIES, each rim model features a unique depth and width. Rim width is determined by pairing each rim model with the predominant tire widths used for the defined ride application. By optimizing the rim and tire interface, handling predictability and traction are improved.
Additionally, the new MSERIES features an improved tubeless design that refines the union of tire and rim creating a more reliable seal and reducing the possibility of "burping". This new level of tubeless performance is made possible in part by a new "hookless" bead design. Lead Engineer Brett Satterthwaite stated, "Our beadless hook design has performance implications that include better tubeless performance, pinch flat resistance, and impact durability. It is a design that truly plays to the strengths of full carbon construction."
ENVE's new MSERIES is now shipping to authorized dealers and distributors around the world. The new MSERIES will also be available on select complete bike models from ENVE OEM Partners: Cannondale, Santa Cruz Bicycles, Turner, and Intense.
M50Fifty
We made this rim specifically for the cross country racer who requires a no compromise RACE wheel that won't let you down when you reach the top of the race course. Based on feedback from Sho-Air and Cannondale Factory Racing Teams, our M50 features a ride quality defined by vertical compliance that improves efficiency over rough terrain and prevents fatigue caused by hard hours in an unsuspended saddle. The M50 won't make the effort hurt less, but we promise your effort will be rewarded more than ever before.
M60Forty
This rim pays tribute to the sport of mountain biking by honoring the aspects of human powered ascents and technically challenging descents alike. The width and strength of the M60 will prompt many riders to view this as the ultimate Trail or Enduro setup while others will acknowledge its low weight and apply it in the XC racing environment. Regardless of application, we made this rim for the rider who loves mountain biking. It's our promise that this rim will elevate the fun factor of your ride experience to levels
previously undiscovered.
M70Thirty
Don't have access to a helicopter? Riding uphill a means to an end? Is that end a rowdy backcountry descent or flow line? Then this rims for you. We made this rim acknowledging that some of the most epic mountain bike descents require a lot of pedaling to get there. While this rim is light enough for uphill travel its pedigree resides in downhill racing. Sharing similar dimensions with its World Cup proven big brother the M90, the M70 is built for the most aggressive Enduros and Big Mountain lines you can throw at it.
M90Ten
The lone downhill specific carbon rim on the market just raised the bar a few more notches. The M90 is the re-embodiment of the venerable ENVE DH wheel that's been ridden to multiple World Cup podiums and back to back World Championships by the Santa Cruz Syndicate. The M90 is stiffer and stronger than any rim we have ever made. On top of the improve- ments made in ride performance and durability, the M90 is also tubeless allowing DH racers to enjoy the benefits of tubeless in a World Cup proven package.
New Zealand Retail Pricing
All rims = $1290.00 each
Wheels = $3700.00 on DT Swiss DT240
= $3800.00 on Chris King

All rims have these key features
Ride Tuned Design – impact resistance, optimized rim width, application specific vertical and lateral stiffness
Beadless Hook Beads – precision tubeless fitment, pinch flat resistant
Lighter Weight – faster accelerations, precision handling
The Next Generation of Mountain Wheel Technology
Passion. It's what led us down a path less traveled to face the ultimate challenge… to create a carbon fiber mountain bike rim. However lightly traveled and challenging that path has been, our vision of a stiffer, stronger, and lighter mountain rim created a new world where carbon is now the gold standard for mountain bike wheel performance. Since our first carbon mountain rim model was launched in 2007, carbon technology has evolved, and so have we…
Introducing the ENVE M Series
The ENVE M Series ushers in a new era of carbon mountain rims that are ride tuned for discipline specific performance; and plays host to new ENVE technologies that promise a ride experience second to none.
Ride Tuned
Each model in the ENVE M Series is designed with a specific rider profile in mind. In the past we had classified riders into three general categories in a one size fits all XC, AM, and DH designation that worked well for some but left others wondering where they fit. The ENVE M Series features four completely new models that classify riders by the ride style that they most closely identify with. Each rim model is designated by a style ratio that represents a rider's inclination towards descending vs. ascending.
Tuning each rim to a specific application meant creating a rim that is fittingly light, stiff, and durable for its intended application. As such, each rim in our next generation MSERIES is lighter and stiffer than its comparable first generation predecessor.
Developing laminates that cater to a specific ride application is only part of the story. Each rim is optimized to perform within a range of specific tire widths that are most prevalent for the intended application. By refining the interface between rim and tire we create more precise and predictable handling characteristics and thus a more efficient wheel system.
Impact Resistant Construction
A no compromise requirement of the M Series mountain rims was increased impact toughness. With a reputation built on durability we have worked tirelessly to up the ante in terms of rim durability and are proud to say that we have taken rim strength to the next level. The M Series features a proprietary rim shape and construction that mechanically improves durability and impact resistance across the board.
The Virtues of Vertical Compliance
The efficiencies gained by running appropriate tire pressures for a given trail condition are not insignificant. In much the same way a wheel becomes inefficient if the tire pressure doesn't match the trail conditions, a rim that is too stiff or soft can cost precious efficiencies in rolling resistance.
The new M Series features a unique rim construction that optimizes vertical compliance to match that of the tires and terrain of the intended application. By doing this, the pairing between rim and tire is optimized to foster increased traction and control through rough and variable terrain. Additionally, tuned vertical compliance produces lower rolling resistance and less rider fatigue as the wheel is working more efficiently as a system.
Beadless Tire Retention
The refinement of tubeless mountain tire technology paves the way for rim manufactures to design rims free from the handcuffs of sloppy and imprecise tire fitment. The key to a good tubeless system is a tire and rim that works harmoniously to create a seal at the tire bed of the rim. By eliminating the "hook" from the top of the rim sidewall, we are able to produce rims to more precise dimensions, allowing riders to run lower tire pressures without the risk of unpredictable air loss. Other benefits associated with our beadless rim design include greater pinch flat resistance and rim strength.