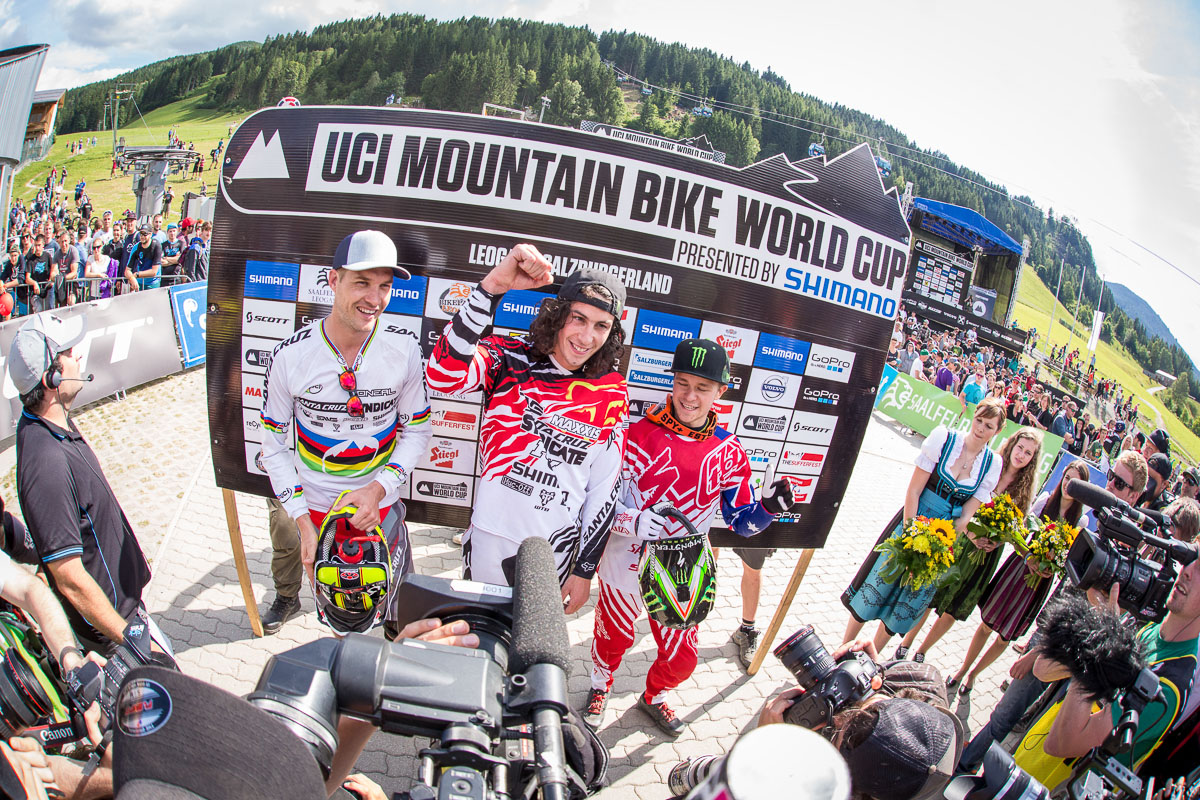 The final runs of the UCI Mountain Bike Downhill World Cup stop topped off a legendary Out of Bounds festival in Bikepark Leogang. Bright sunshine accompanied the victories of Manon Carpenter and her fellow countryman from England Josh Bryceland, who celebrated his first world cup win ever. French Pierron Amaury took the win in the junior's category.
Times on the official UCI leader boards reflected the fast and flowy characteristics of the 3.1 kilometer long world cup track in Leogang: only 2 seconds separated the top 5. The track is called the "Speedster" for a reason. Precious split-seconds were no where to be found on the highspeed-passages. The real battle took place in the more technical parts like "Steinberg Rocks" and "Roots of Asitz".
The track in Leogang best fit the young Brit Josh "Ratboy" Bryceland. He celebrated his first ever UCI World Cup victory with a flawless run in front of 11,000 spectators. His honest comment says it all: "I actually always do the same – ride down the hill as fast as I can. Sometimes it works good, sometimes not. Last weekend in Fort William was similar, besides the fact that I got 26th. This is a week to celebrate." Before Bryceland put down his winning run, several favorites hit trouble on the track. Gee Atherton (GBR) didn't have a great day and crossed the line in 12th place. Last year's world cup overall winner Steve Smith (CAN) left Saalfelden Leogang after several time-consuming mistakes, resulting in an 11th place finish. Despite falling out of the top 10, Aaron Gwin was the unspoken hero of the day. Looking fast up top, he caught a flat tire and road out the course with a textbook-like run. His determination was rewarded by the roars of the amazed spectators.
Reigning World Champion Greg Minnaar spent a long time in the hot seat and was only pushed down by Bryceland. Another victim of the Speedster was French rider Loic Bruni. After qualifying first on Saturday, the former junior World Champion in Leogang had high hopes for the top spot. It all looked set for a French win after the first split. Sadly, Bruni had to burry all his ambitions in the last root section, when he went down. Completing the podium behind Bryceland and Minnaar was Fort William world cup winner Troy Brosnan, who also took over the lead in the overall world cup.