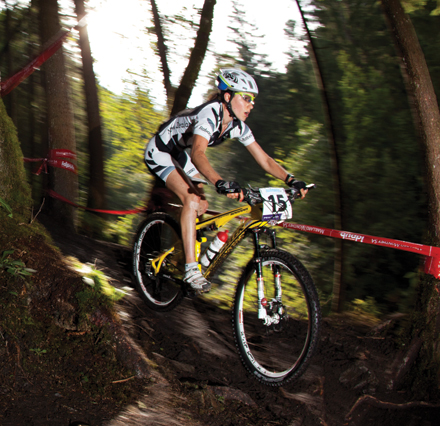 New Zealand mountain biker Samara Sheppard produced a remarkable charge on the final lap to earn a podium finish in the fourth round of the UCI World Cup in France on Saturday (NZ time).
The 22 year old was still in fifth place halfway through the final lap of four of the women's under-23 race at La Bresse before producing a withering burst to pip South Africa's Candice Neethling on the line for third.
It is the first World Cup under-23 podium placing for Sheppard, who is racing for the Swiss-based Wheeler IXS team this year. It follows her outstanding fourth placing in last week's World Cup round in the Czech Republic.
Sheppard, the Rotorua-based Wellington rider, made a fast start in today's race, to be second after the starting loop on a challenging course at La Bresse, a town in the Alsace region near the German border.
She slipped back to fourth on lap one and by lap two was fifth, nearly five minutes behind the leader, Swiss teammate Jolanda Neff who won the last round.
The New Zealander was still fifth and 44 seconds behind South Africa's Candice Neethling in fourth at the start of the final lap but by the halfway point she had reduced the gap to 18 seconds.
Neff struck difficulties on the final lap and failed to finish which presented Ukraine's Yana Belomoyna with the victory and elevated Sheppard to fourth. The Kiwi flew down the final descent to pip Neethling in the dash to the line to claim third place.
Sheppard now has a break for a month until her next race, with her performances over the last two weeks cementing her qualification for September's World Championships.
Meanwhile the Rotorua pair of Dirk Peters and Sam Shaw will contest the men's under-23 race later in the day while Whakatane's Karen Hanlen is the only Kiwi racing in the elite women's race on Monday (NZ time) after Rosara Joseph broke her wrist in practice.
Results, UCI Mountain Bike World Cup, La Bresse, France:
Under-23 women:
Yana Belomayna (UKR) 1:23.33, 1; Rebecca Henderson (AUS) at 1:37, 2; Samara Sheppard (NZL) at 2:21, 3; Candice Neethling (ZAF) at 2:22, 4.