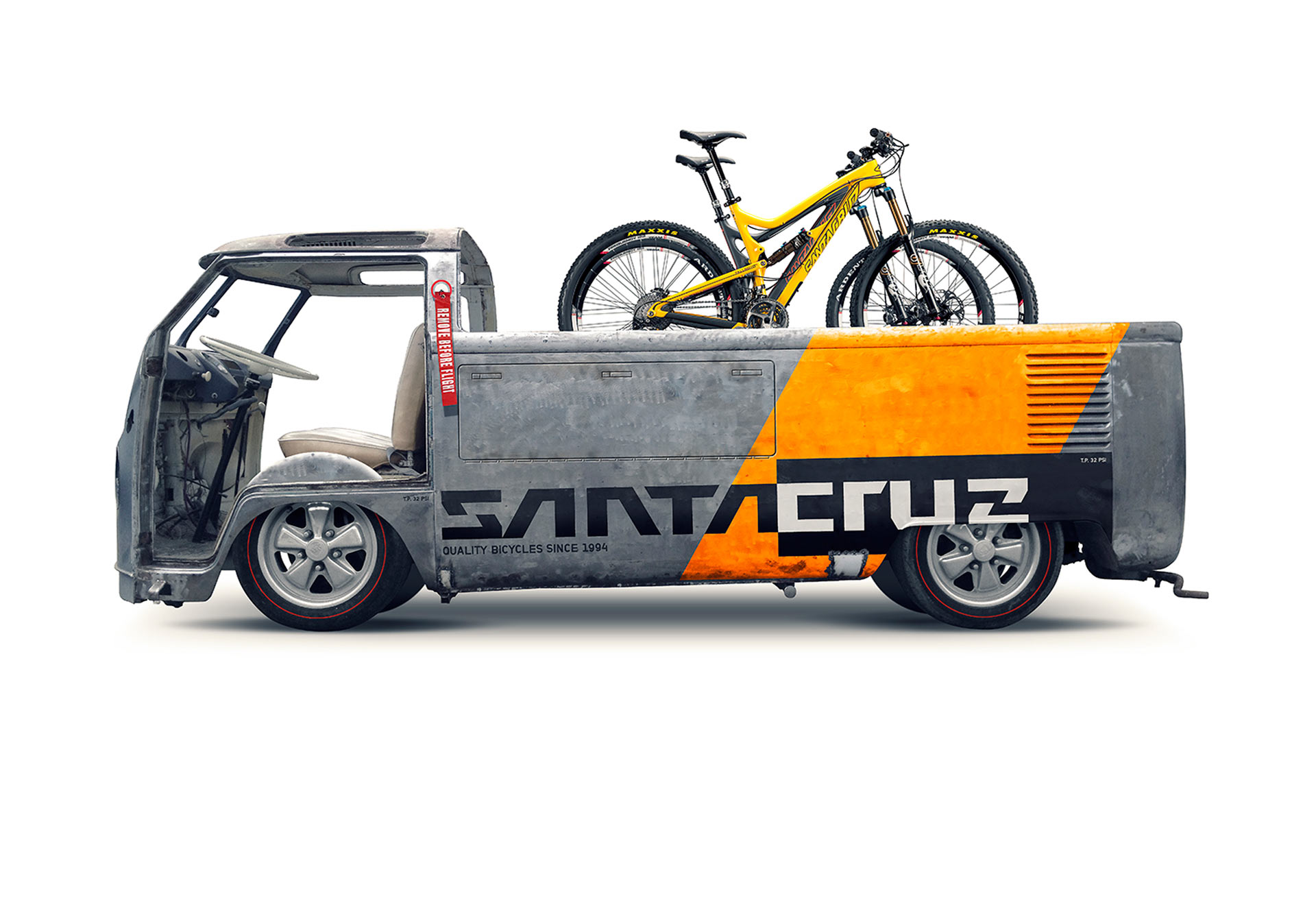 Seb was supposed to be here in New Zealand guiding the Easton crew around a few weeks back, but it turns out he got a better offer to attend Santa Cruz Bikes' launch in Sedona. He knew Santa Cruz had a few things up their sleeves (mainly 'cause he'd been testing the long travel Tallboy) and now that the embargo has lifted on the final two of four bikes, everyone can now tell you about the latest two bikes to Santa Cruz's huge lineup! The 135mm alloy and carbon Tallboy LTs. Seb says this bike is the business. Continuous cable routing, ISCG tabs, grease ports, 12mm rear axle and of course VPP suspension. And as you can see from Gary Perkins' video (starring Seb, Ariel Lindsay and Abigail Hippley) everyone seems right at home straight killing it on these things.
Anyway here's the press release:
"Are you sure you want to launch a new bike on April Fool's Day? You know it's a Sunday, right? Aren't you afraid people will think it's a joke?"
We heard a lot of that in the leadup to unveiling these, our newest bikes. And to be honest, those are some sensible reasons NOT to launch the bike today. But we were waiting, patiently and it would seem eternally, for Roskopp's new van to get restored, and the time when we wanted to let the public know kept on getting pushed back. Finally, we had to cut bait, as they say down on the wharf.
As you can see, Rob's new van/pickup is nowhere near done yet. That kind of delay is to be expected when one trades a couple hundred signed Roskopp Face decks and a used pair of Michael Toschi shoes to the local autobody guy and asks him to perform the ultimate sacrilege of chopping a relatively straight '66 VW Window Van into a pickup. Someone, somewhere, is going to end up disappointed. Good thing they managed to talk him out of putting in that 302 Ford motor with a Pantera transaxle that he was eyeballing. Anyway, we finally convinced the boss that we could launch the bikes before the van was finished, otherwise the damn things might never see the light of day, and he gave us the okay.
We still have no idea when the van might get finished…
Meanwhile, we've got some new bikes that we are very proud to talk about. Please meet the newest members of the Santa Cruz family:

TALLBOY LT
The Tallboy has been a hugely successful bike for us. And it is clearly evident that the 29″ market is evolving, and the industry is figuring out how to make these bikes handle and perform well in a wider set of terrain than was thought possible a few years ago. (Somewhere we can hear Wes Williams laughing at us all) So, in order to meet the needs of riders who want aggressive allmountain bikes AND big wheels, here's the Tallboy LT. It's a 135mm travel bike with VPP suspension designed to run 130-150mm forks. The TBLT head angle is a degree and a half slacker than that of the Tallboy, seat angle just under half a degree slacker. Doing the apples to grapes comparison that inevitably crops up whenever people start getting into wheel size arguments, think of this as a bigwheel alternative to our Blur LT—versatile enough to handle daily duty as a doitall bike, but burly enough to run hard in the big ugly stuff. There's a ton of features that are probably best handled by bullet points, so without further ado…
Features:
M, L, XL sizes
Hydroformed top and downtubes
Tapered headtube
Replaceable derailleur hanger
ISCG05 mount
135mm travel, 7.875″x2″ shock
Custom tuned Fox Float RP23 Kashima shock
Collet axle pivot hardware
Offset lower link (better chainguide clearance), recessed grease ports
Continuous cable routing, dropper post routing
Threaded BB shell (we think this is still the best, most userfriendly, widely compatible, globally serviceable way to install a bottom bracket.)
Available complete with R/AM spec for $3199 or SPX/AM spec for $4299
Colors: Gulf Blue/Orange,Gloss Gun Black/Black
TALLBOY LTc
Here's where we get into the flagship of our flagships. We put a lot of emphasis on the suspension performance and ride characteristics of our VPP suspension-design tuneability of shock rates for individual designs, superb pedaling AND bump absorption characteristics, awesome chassis stiffness and ride dynamics, short stiff links with really good hardware, durability, ease of service—but we get real geeked out when we can build all that stuff into a carbon fiber bike. Carbon fiber processes are not all equal, and this is not all just random "black metal." We are very proud of what we can achieve with carbon fiber, and the way we do our layup gives us the advantage to build bikes that are lighter AND stronger than just about everyone else. That said, this is the Tallboy LTc. Same geometry, same suspension, same intent as the aluminum version, but crafted from carbon fiber using our proprietary onepiece layup process. This is also our first foray into 142×12 rear axle territory. For lack of any better hyperbole, this bike is siiiiiick! 135mm travel, all the good juicy features already mentioned in the Tallboy LT blurb above, but also stiffer, stronger, and really, really effing light. Weight for a frame, with shock included, is 5.3 pounds.
Yup.
Features:
M, L, XL sizes
Proprietary onepiece carbon fiber layup
Tapered headtube
142x12mm rear axle
Replaceable derailleur hanger (optional Shimano direct mount rear hanger available)
ISCG05 mount
135mm travel, 7.875×2″ shock
Customtuned Fox Float RP23 Kashima shock
Collet axle pivot hardware
Offset lower link (better chainguide clearance), recessed grease ports
Continuous cable, dropper post routing
Leather seatstay, chainstay, downtube protector
Threaded bb shell (as in the paragraph above, our feelings are still the same. This is a good way to do a bottom bracket.)
Available complete with R/AM spec for $4399 or SPX/AM spec for $5299
Colors: Matte Carbon/Orange, Solar Yellow/Black
The first Tallboy LTs are in stock now and available as part of our Custom Color Choice Program for delivery by April 13th.
Stock colors will be arriving a week or two after that. The Tallboy LTc will be in stock and available for delivery by the beginning of May. For confirmation of whether this is real or all a hoax, contact your friendly Santa Cruz Bicycles dealer, or email us here. In the meantime, here's some video candy of the Tallboy LT and the Tallboy LT carbon