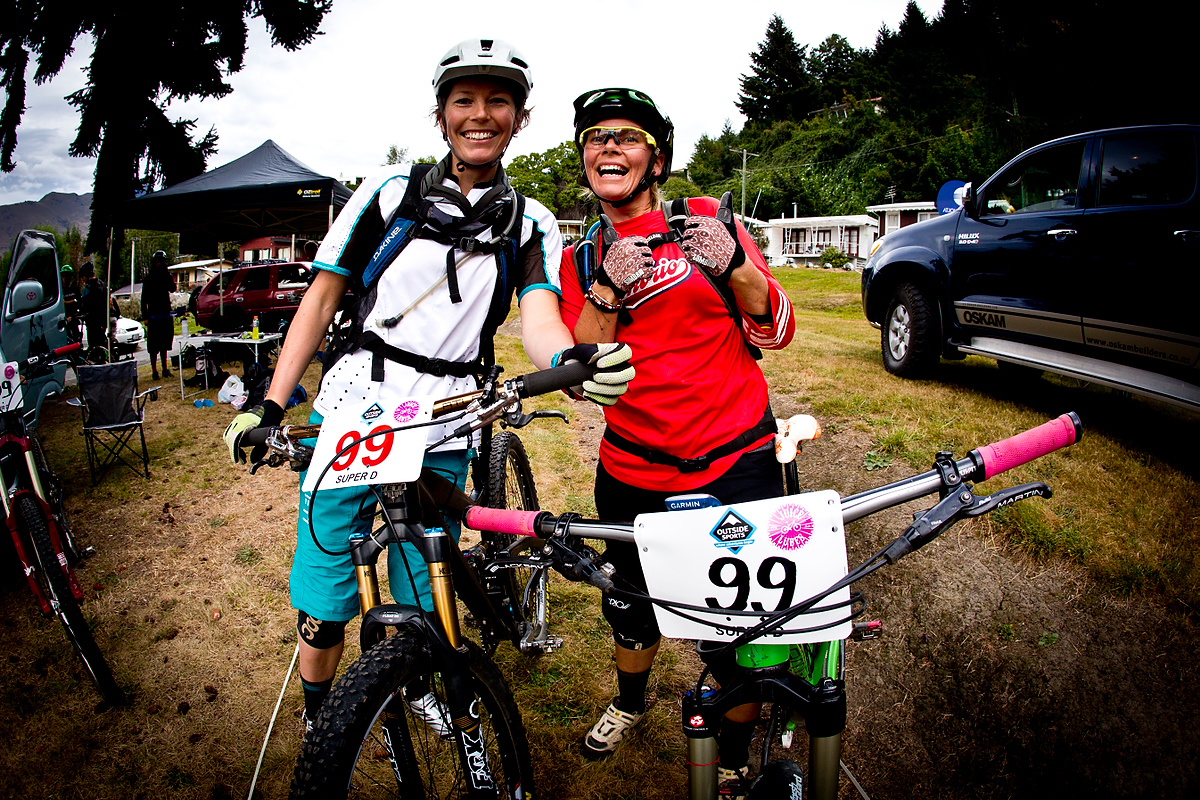 What a great week of riding bikes, racing, hanging out, full moon yoga in the park, stunning sunrises, warm sunshine, swimming, drinking beers, racing down Rude Rock, shopping and eating massive Fergburgers while being surrounded by the most spectacular scenery everywhere you looked.
First up was the 6-hour enduro Super D race that Rosara Joseph and I teamed up to race together in the super competitive women's category of teams of two. We were team Trail Fund NZ (www.trailfund.org.nz), and I had no idea what I had gotten myself into.  Not wanting to let down my Olympian XC teamie, I was getting a bit nervous, and even more so after our first lap when it was revealed to me that this was going to be way more of an XC race than anything else and not at all the track we thought it was going to be held on (which was nice and downhilly). Anyway, not having much of a choice, I gave it everything I could and we managed to clock 13 laps over the 6 hours of racing. I was knackered, but it felt great and we took the win! (Hats off to Rosara who almost died the day before after her carbon bars decided to snap while descending at mach speed).
The rest of the week was spent exploring old and new trails, shuttle runs, XC rides, coffee shopping, eating and free full moon yoga in the park with gluten free cupcakes and wine après savasana – thank you Lululemon! (No wonder their sports bras cost what they do).
Next up was the Enduro race, which consisted of four super fun tracks, two of them super pedally and two of them proper, fast, flowy enduro tracks, making for a great combination of racing. There were also two pretty long liaison stages in between and made for an all round super social, fun day of racing. The racing was super tight and that made it very exciting, especially when I ended up with a mechanical during my 3rd stage. A quick MacGyver fix managed to hold up so I could race the last stage, but in the end, I finished in second place only a few seconds behind the winner. Harriet and I ended up getting the exact same time down the last stage, Zoots, with a time of 1:55 which was really close to the top men's times, so I was very pleased with that. Cheers to Harriet for taking the win and to Rosara for third place. We rocked it.
Of course a week of riding bikes will cause a few casualties. Boyd hit a tree really, really fast and is nursing a fractured pelvis, Simon has another gimp shoulder for a few weeks after disagreeing with a gap jump, and Sven tore his shoulder ligaments and wrote off his new helmet. Healing vibes coming your way!
Exhausted after a pretty jam-packed week, it was time to pack up and head back home to Nelson to hopefully catch a few more sunny days up there on the bike before winter sets in.
Cheers to Queenstown and to Sven Martin for the great shots!