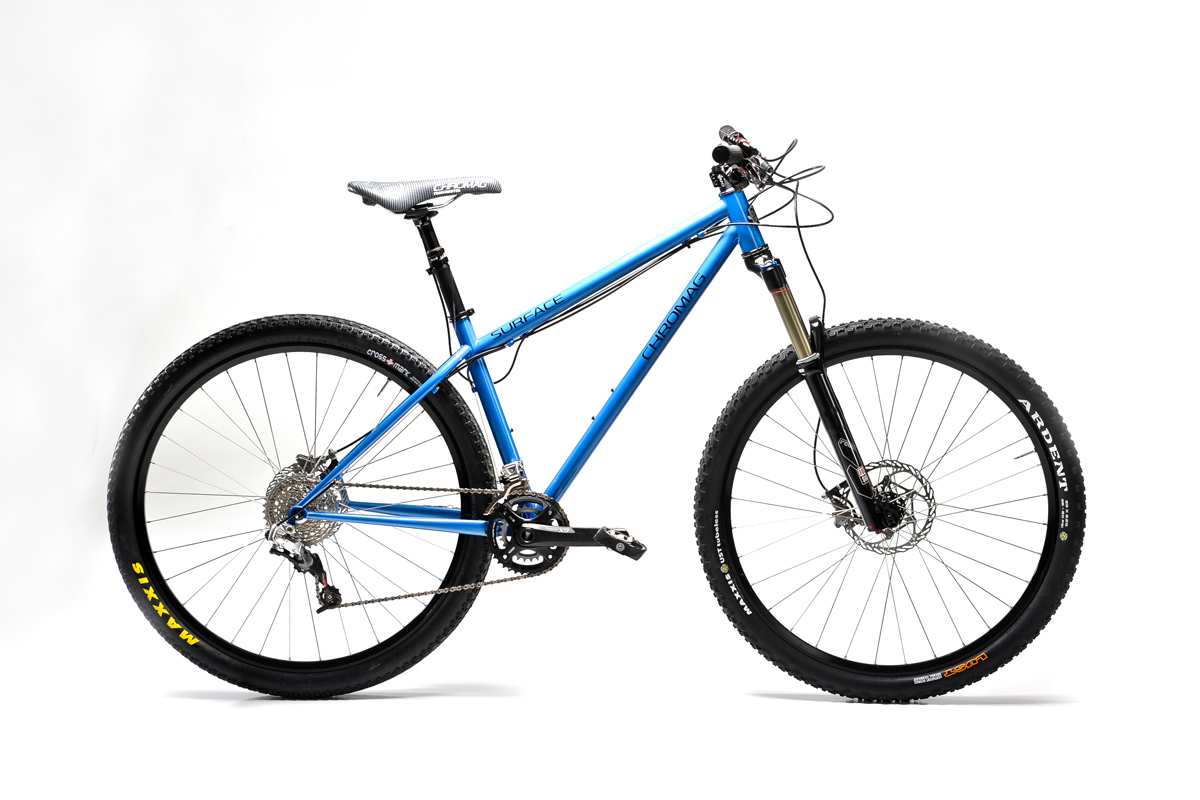 So by now you will of discovered that Spoke's towering publisher, Caleb "Taller Than The Sky" Smith, is a huge fan of 29ers. Caleb usually eyes anything 29er related that stirs on the forums of WhatWagonWheel.com but it seems he missed this not-so-little nugget. Chromag, the Whistler based purveyors of radical steel hardtails, sexy bike jewelery, underground trail warfare guerillas, and committed trail sniffers, have just announced the release of a 29er steel hardtail, called The Surface.
Now before you discredit this announcement as just another bike company looking to cash in on the 29er bandwagon wheel and this post as pun laden propaganda for all things bigger than they were before, consider that Chromag is the last bike company in the world to jump on fads. They build steel hardtails because they prefer the simple pleasure of riding simple bikes to the complicated striptease of jazzily marketed springy parts, acronyms and smoke and mirrors. Even more so, Chromag is based in Whistler, one of the last strongholds of the 29er resistance (Nelson, NZ being the only one now). Until the summer of 2010, 29ers were considered unfeasible for the kind of uber gnar of Squamish, Pemberton, the North Shore and Whistler, but once a few brave souls put their neck on the line and showed that big wheels are meant for monster trucking over gnarness, not long hauling along crushed gravel, Chromag took quiet notice and went about testing bigger wheels on a steel mule. Since then they've been taking time to understand the different geometry characteristics required for 29ers and testing out numerous different setups until they were happy to release The Surface to the world.
I was in Whistler recently and it has been interesting to see a few of the hardcore trail slaying ninjas trying out The Surface and coming back as 29er converts despite their loathing of all things trendy. It seems once people leave their prejudices at the door and stop listening to the misinformation out there about 29ers, they open themselves up to seeing that… hang on. Wait, I'm stopping here before I say anything more to make me sound like a 29er evangelist. Here's the PR from Chromag themselves. That's Caleb's role, I'm just a fan of the best bike ever.

Chromag will be running a limited production of our first model of 29er to be named the Chromag Surface.
The terrain and trail variety we know here in Whistler played the primary role in affecting our decisions for geometry and features.  Our goal was to create a frame for a broad variety of demanding trail conditions ranging from tight tech singletrack, steep descents, to epic climbs and long distance rides.  We wanted a bike that resembled the handling and versatility of our 26" bikes and in turn one that blows away the myth that 29ers don't work well in technical situations.
The result is a 5.25lb (mid-weight) frame with relaxed head angle and short stays.  It is surprisingly quick and nimble in tight trails and is also a very capable descender.  We chose to use a 44mm headtube for a low stack height and tapered steerer compatibility.  We also created a custom 31.6 I.D. seattube to accommodate most brands of adjustable height seatpost.  Our unique machined yoke allowed us to shorten the chainstay length to 16.9" while maintaining tire clearance for up to 2.4".
Primary features include:
-Low slung geometry with sloping toptube, lots of standover clearance.
-Short chainstay length at 16.9" (429mm).
-Slack headtube angle. ~68 deg.
-Seattube angle at 74deg
-BB height at 12.75"
-31.6 I.D. seattube to accommodate variety of seatposts
-44mm headtube accommodates tapered or straight 1,1/8" forks with a low stack height.
-ISCG 03/05' tabs
-Tyre clearance for up to 2.4" tyre (maxxis ardent).
Recommended fork travel – 120-140mm.
Sizes"
S/M:  17" seattube, 23" toptube (effective)
M/L: 18.5" seattube, 23.8" toptube
L: 19.5" seattube, 24.4" toptube
XL 21" seattube, 25" toptube 
The surface will be available in 5 colours including black, royal blue pearl(shown), creamsicle orange, leaf green, pewter grey.
Production begins late August with the first frames shipping approximately 60 days later. Pricing will be $1475 per frame. We are running a priority list of names for these frames. If you want to be placed on the list please confirm your preferred size and colour. There is no obligation to purchase until we go to paint. Note that our production quantity is a set number so we may not be able to fill all orders.
 Any questions, please contact Ian at info@chromagbikes.com
001 604-905-6667