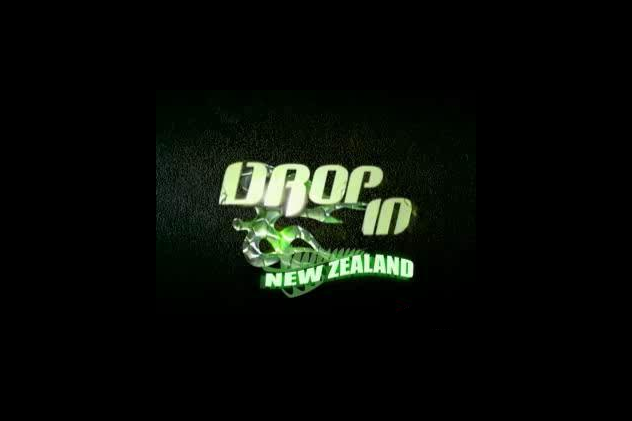 Get ready for a whirlwind tour of New Zealand riding spots. The Best of Drop In New Zealand is exactly what it says it is, and worth watching every second of its 24 minutes. The Kiwi rider showreel kicks in at 17 minutes.
Over the past month and a bit Drop In New Zealand has made its way onto YouTube. Filmed in early 2005 and released on TV in close to 70 countries, it's been a road trip down memory lane for me.
Being the local guide/ co-producer/ logistics person for Drop In was the most exhausting 2½ months of my life. I don't think I could have comprehended how full on it would be and all the trials, trails and tribulations that would happen along the way. So indulge me if you will for a look back on what's changed, and what I would have done differently.
In 2005 New Zealand was a lot more isolated from the international riding community. Our main cultural exchange programme involved our talented downhillers flying to the other side of the world for race circuits. A few journalists, riders and film crews had visited, but it was still a rarity to see New Zealand mentioned overseas.
Drop In New Zealand introduced thousands (millions?) of people to New Zealand mountain biking. Coupled with the 2006 UCI World Mountain Bike Champs in Rotorua the impact was noticeable. Yes, we were small, we were far away from everywhere, but we had more riding, scenery and things to do than you could throw two campervans of rider at.
In the past decade our cultural exchange programme has stepped up, with talented overseas riders taking seasonal, semi-permanent, and in some cases permanent residency in New Zealand. Kiwis have made their presence felt in more diverse overseas events, and NZ Trail Solutions exported hundreds of mountain bikers all over the world to build bike park trails.
A Drop In style tour of New Zealand in summer 2015 would look very, very different. With this in mind and if any of you ever have a pair of friendly Canadians producers come knocking – this is what I would have done differently.
Started 1-2 months earlier. While the beginning of March is generally sunny and fresh by mid May we're well on the way to winter. Starting in January or even early February would have given us longer, sunnier days, and less chance of rain.
More suitable support vehicles. While I loved the Hearse it had a hard time dragging the massive Drop In trailer for 5,000km around New Zealand. It definitely wasn't helped by my mechanics failing to notice that the radiator was on its last legs, and a trailer (over)built to withstand the apocalypse. In hindsight a 4WD LWB van, 4WD twin cab light truck (i.e. Isuzu Elf) or – if money is no object – an LWB Landcruiser would have made life a lot easier.
Not volunteering to do so much. Before we kicked off I was happily offering my services for everything from driving, to writing, to photography, to cooking. Halfway in, getting through the day intact was enough of an achievement. Seventy-five days is a looooooooooong time to be on the road.
Cheerful key local riders. While Nathan Greenwood was excellent value in his home stomping ground (Queenstown, massive jumps, built by Nate) the further we got from his comfort zone the grumpier he got. While some people said this made for "good TV", negativity is a grind. At the end of the day if you're filming something like Drop In you need riders who can maintain a positive attitude no matter what.
Better trail/ location preparation. Being an unashamed trail rider it was hard to work out what'd work best for the guest riders. In 2005 New Zealand was littered with trails and downhill tracks but lacked high level freeride hits. Not to mention every rider has their own style/ idea of what's right. What the Alexandra locals built almost hit the spot, they just needed more preparation time and some good test piloting. A "we're going to be at your town in four weeks – what can you build?" approach might have worked better.
Don't take too much responsibility, and have fun. Enough said.
All said I've bumped into many many Drop In New Zealand fans, some of them in the strangest places. Getting called out by a checkout girl who was a "great fan" still sticks in my head. The show rated surprisingly well in New Zealand and was the third most popular C4 show of the year behind Futurama and Family Guy. It went on for multiple repeats and it's great to see it finally make the internet so anyone can watch it whenever they want.
Today New Zealand mountain biking scene has caught up, and kept up with the rest of the world on so many more levels. Drop In New Zealand has been a part of that, and for that – I'm proud.
Good memories, good friends, good times.