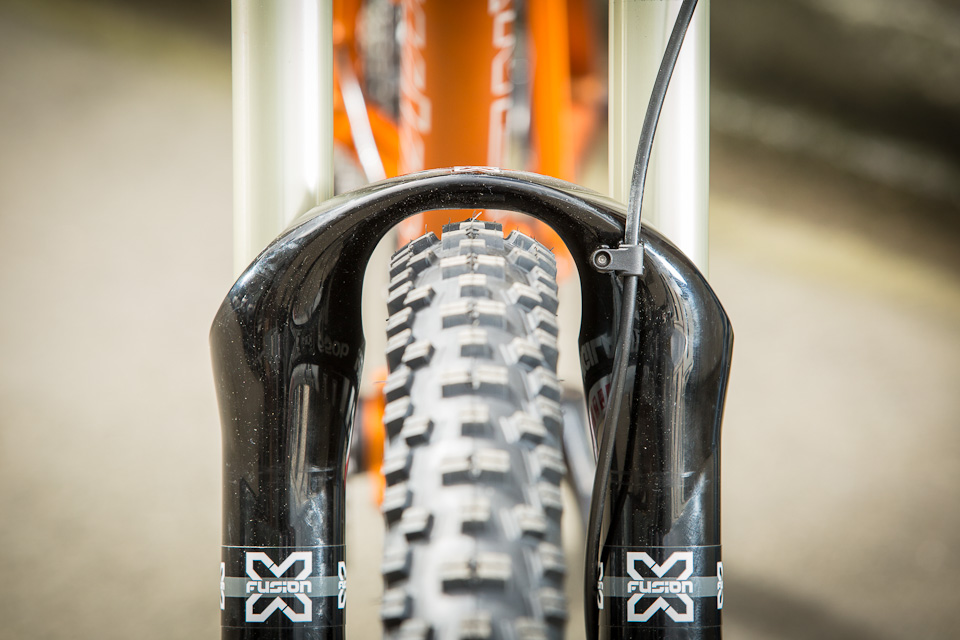 So, I've had my new Turner Burner frame sitting in the office for a couple of weeks, just waiting for the bits to come together to get it up and running. The final (and pretty vital) pieces of the puzzle, an X Fusion fork and WTB wheelset, came together over the weekend and she's ready to ride!

WTB and Hope distributor KRD Imports is now offering a full wheel building service, and I opted for the i23 Frequency rims laced up to Hope Pro 2 EVO hubs with Sapim spokes. Rubber is WTB's new Vigilante 2.3 for the front and a Wolverine 2.2 rear, set up tubeless with the TCS tape and sealant.
The Vengeance fork can be run with 26″ and 650b wheels straight out of the box. Even with the big Vigilante tyre there's adequate clearance when running the medium wheels.
This fork isn't the final choice for the bike though; A new 650b specific Sweep will be swapped out when they arrive in the country soon. There'll be a full review when it's here.
The Vengeance HLR DLA is set up with 150mm travel and has 36mm stanchions. The Sweep will be set to 150mm travel and sports 34 stanchions, and will drop a decent chunk of weight (~400g) from the front end (not that this fork feels heavy though, and I think I'm gonna love ploughing through stuff with this big fella!). Travel can be internally set at either 170mm or 150mm with the ITA system using different air rod spacers.
The DLA travel adjust knob drops the travel by 30mm, to 120mm in this case. The HLR damper has the rebound adjuster on the top of the right leg…
…and high and low speed compression damping knobs tucked away under the neat alloy cap on the bottom. Syntace's tool-less X20 axle keeps it stiff.
Big chunky tyres are becoming de rigueur for trail bikes these days, and the WTB Vigilante fits the bill nicely… we'll be getting a Team Issue model to try soon as well.
Stay posted for the rest of the build…