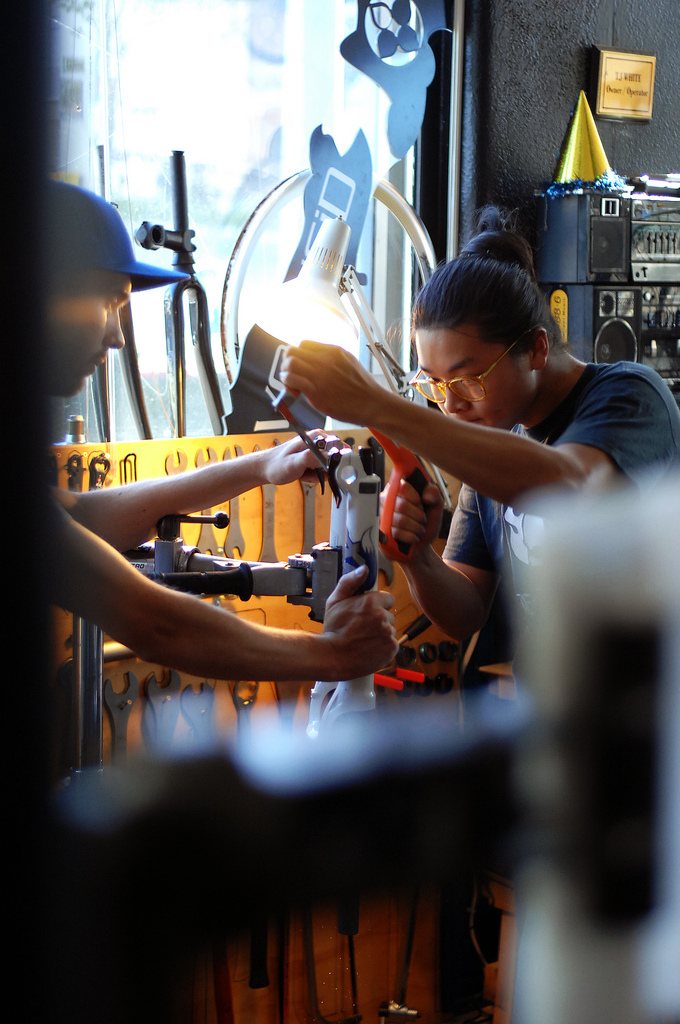 Teva lives and breaths everything on two wheels. Alongside this he's also a part time model, owner of the coolest tattoo ever, and still manages to find time to be manager of Custom Component Manufacturing at T.Whites Bikes in Auckland. Teva originally hails from Tahiti and has brought a little of that island sunshine and laidbackness to the streets, trails and cycle industry of New Zealand.
(Teva doesn't own any pictures of himself getting rad on a bike so you will just have to take our word that he kills it on a bike.)
How old are you?
J'ai 26 ans.
Where do you live?
Auckland
What do you like best about living where you do?
Food
What do you dislike about living where you do?
Haters
How did you get involved in the mountain bike scene to begin with, and how long ago was that?
Probably when I was seven and first learned to ride a bike. I knew nothing about what a scene was let alone a mountain bike scene, just rode my bike, talked about bikes with people who rode bikes, read about bikes and dreamt about them.
What's your 'day' job? What does it involve?
Bike shop do-it-all-happy-go-lucky-to-have-job-but-often-forgets-it. It involves arriving on time (really hard to do for realz), cleaning the shop, fixing bikes, helping customers with a smile in comprehensive language (my accent doesn't help much), being nice to wholesalers, making snarky comments about everything (compulsory the moment you work in a bike shop, they should really have a workshop on how to do them properly, mine are of poor quality), having meetings at DOC on K Road.
26" or 29" and why?
Can't ride 29" because I don't have one. Can ride 26" because I have one of those.
What are five benefits of working with bikes all day every day?
Monies, drinking lots of alcohol, hanging out with friends, gossip and titanium.
How would you describe your riding style?
Avant-garde terrified.
Favourite trail?
Auckland domain's walkways.
What's one thing you've learned in the last 10 years?
It's all in your head. (And also always triple-double check.)
What's wrong with mountain biking?
The millions of industry standards and proprietary bike parts.
What are three things right with mountain biking?
At the moment? Parts are becoming more reliable, better pricing and just so much fun!
Top two mountain bike developments in the last 10 years (bike park, part or whatever)?
Dropper seatposts (just quoting what I read in magazines) and disc brakes and handmade berms and better Gore-tex and bike pumps and carbon stuff and titanium and better media coverage on events.
All time favourite rider?
Rob Machado (surfer, Google him).
Top  five favourite bits of mountain bike kit?
Titanium, Titanium, Titanium, Titanium and Titanium
Who do you look up to?
Too many to name.
What are your vices?
Tim Tams
Finish this sentence: "On a Saturday I like to get up and…."
Slowly stretch and check the weather while my unicorn angel of death gets me my morning baguette from the local dairy down the road. This place has been there for years, as long as I can remember. They also sell Tim Tams and normally Tim Tams can only be found in places where Arnotts is based. Surprisingly you can find Tim Tams in tahiti too, there are plenty of things you can buy in these tiny islands. Everything is imported apart from the waves, the smell of the sea, the fishes and the sand. I like the mentalist.