Shimano have released details of the next iteration of their top of the line XTR groupset and in doing so answered the question everyone has been asking: "How will the big S respond to SRAM's XX1 narrow wide, 11 speed groupset?" The details are below but in quick summary: surprise surprise, Shimano have also launched an 11 speed option with a chainring that features a new tooth profile designed to better retain the chain (but not a narrow wide configuration).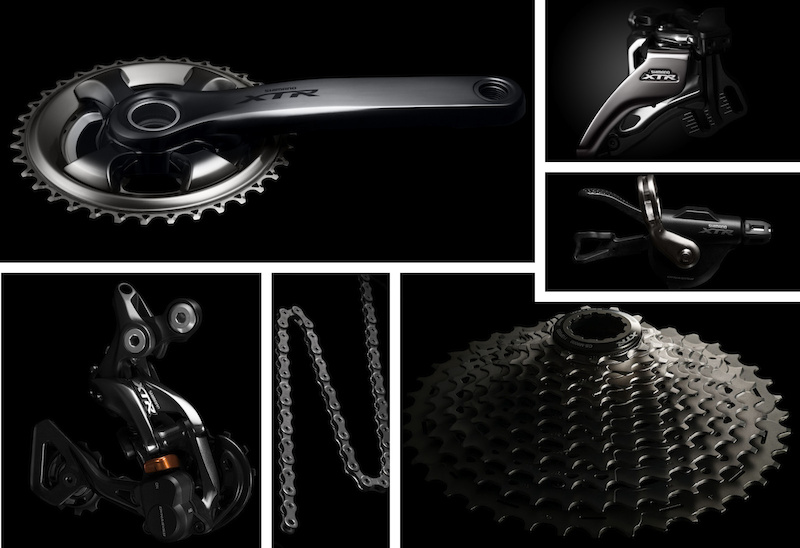 Shimano have also continued the move towards offering both 'Trail' and 'Race' specific versions of a lot of the XTR components, 'Trail' focusing on options, adjustability, and durability and 'Race' focusing on weight and performance. Other apparent highlights from the full groupset include; a very high tech front chainring made from a composite of aluminium+carbon+titanium, wheelsets featuring carbon+aluminium laminate rims, and a new 'side swing'front derailleur that apparently "improves front shifting by 100%".  I guess the proof will be in the pudding. We're looking forward to getting our hands on some of these components to put them to the test. In the meantime we'd be interested to hear your thoughts. Have Shimano stepped up to the plate in response to SRAM's moves over the last few years?
http://youtu.be/9Z2ON6_S0c8
From Shimano:
DRIVETRAIN SYSTEM:
"RHYTHM AND RANGE" DEFINE THE 11-SPEED DRIVETRAIN
Shimano's unrivalled legacy in producing bicycle drivetrains is evident with the XTR M9000's most notable rider benefit: ensuring pedalling rhythm. New XTR M9000 provides range and ensures rhythm for diverse riding styles and terrain to create smooth, harmonic pedalling – the ultimate goal of a drivetrain. The XTR M9000 drivetrain system maintains riders' rhythm thanks to meticulously selected close step gearing configurations of the cassette and crank.
FC-M9000
XTR FC-M9000 Race and FC-M9020 Trail cranks are modular, creating a Rider Tuned platform whereby single and double chain rings can be used on the same crank arm. XTR FC-M9000 crank sets debut the most advanced mountain bike chain rings ever produced that utilize combined titanium, carbon and aluminium materials. Dedicated XTR 1x chain rings debut proprietary chain ring retention technology in a tooth profile that eliminates the need for chain retention devices.
XTR FC-M9000 Race cranks have a narrower 158mm Q-factor and utilize a lighter and stiffer 3D hollow bonded structure on the non-drive arm.
XTR FC-M9020 Trail cranks are available in single, double and triple chaining configurations on the cold forged more durable, standard 168mm Q-factor crank arms.
Chain ring configurations: Single (30T, 32T, 34T, 36T), double (34-24T, 36-26T, 38-28T), triple (40-30-22T).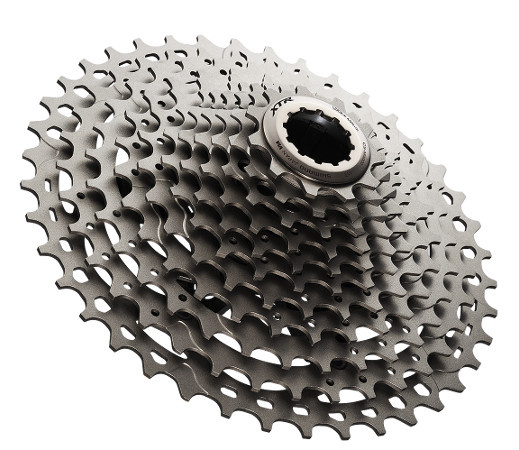 CS-M9000
Rhythm is the essence of smooth power transfer and proper gear step is the key to maintaining rhythm over varied terrain. The XTR CS-M9000 11-speed 11-40T cassette is the widest range cassette Shimano has ever produced and also its most balanced. Thanks to its "rhythm step" progression, it maintains calculated, shock-free gear steps from one gear to the next, saving riders energy and helping maintain rhythm on the trail. Key features include:
A new HG-X11 specific tooth profile.
Carbon spider with aluminum, titanium and steel cogs.
Rhythm step gear progression: 11-13-15-17-19-21-24-27-31-35-40T
CN-HG900-11
Shimano introduces its premium new 11-speed chain that delivers overall better performance for mountain bikers. The CN-HG900-11 uses a HG-X11 special asymmetric plate design and Shimano's new SIL-TEC surface treatment. Benefits of the new chain include:
Overall total improved performance.
A quieter ride, and chain operation.
Better mud shedding.
Increased chain life.April 12, 2014 3
XTR SHIFTING SYSTEM: THE ULTIMATE STABILITY AND RESPONSE
Shimano systems engineering creates a new level of shifting precision in the M9000 XTR shifting system. With both lighter action and increased stability, Shimano's M9000 XTR shifting system redefines gear change performance while introducing enhanced ergonomics. XTR M9000 debuts a bold new front derailleur design and approach for larger wheels and longer travel that delivers remarkable shifting performance.

SL-M9000
XTR M9000 offers Shimano's most responsive mechanical shifting and controlling shifts is easier than ever thanks to a reduction in shift effort by 20 percent. The SL-M9000 shifters feature:
A ball bearing construction, and slick polymer-coated shift cable for smooth activation.
A more ergonomic release lever that utilizes wider, dual-textured carbon shift levers.
An improved vivid index mechanism for more pronounced feedback.
XTR SL-M9000 shifters also feature and debut new I-spec II mounting for more room on bar and rotation and side adjustability.

FD-M9000
Shimano's new FD-M9000 masters front shifting for double and triple crank sets with a new, first-ever Side-Swing front derailleur design that increases shift performance by a staggering 100 percent. Designed specifically with modern trail bikes in mind, Shimano's XTR FD-M9000 Side-Swing front derailleur provides 15mm of increased tire clearance, while new cable routing dramatically reduces shifting effort. Rider Tuned front derailleur options include:
New FD-M9000 (triple) and FD-M9020 (double) front derailleurs that utilize a new structure with three mount options and new cable routing: High clamp, Low clamp, D-type, E-type (without plate).
A conventional FD-M9025 (double) increases front shift performance by 50 percent and is available in high clamp and low clamp options.
RD-M9000
With a refined Shadow RD Plus clutch rear derailleur, a new front derailleur structure and a new XTR chain (CN-HG900-11), M9000 offers the most stable drivetrain the industry has ever seen. A new Shadow design optimizes the slant angle, lowering shift effort while improving shifting and driving stability while the derailleur is even lower profile protected further from harm's way. The new Shadow Plus clutch has a simpler external clutch adjustment, and the derailleur has a wider range of adjustment for easier setup.
The XTR RD-M9000 is compatible with all XTR front chain ring variations.
The XTR RD-M9000 is available in GS (mid cage) and SGS (long cage) options. April 12, 2014 4
BRAKING SYSTEM: RIDER TUNED XTR RACE AND TRAIL BRAKES
New XTR M9000 hydraulic disc brake systems are also Rider Tuned in Race and Trail versions, as not all riders come down the same mountain at the same speed. Shimano's legacy of leading brake design stems from its dedicated study of the components of control: heat, power and stiffness. New XTR M9000 brakes offer varying levels of heat control from an insulated piston (glass fiber phenolic) and insulated pad coating that created 10 percent more heat resistance. XTR M9000 brake levers also feature new handlebar-clearing I-spec II mounting.
XTR M9000 Race brake system
Race-tuned power and overall lighter weight thanks to a magnesium caliper and master cylinder as well as a carbon lever blade.
XTR M9020 Trail brake system
Trail-tuned for power and stiffness using pre-loaded aluminium caliper and a new SERVO-WAVE lever with a powerful and stiff carbon-alloy structure. The XTR M9020 Trail brakes come standard with ICE TECHNOLOGIES radiator pads for further heat reduction.
SM-RT99 rotor
With an increased surface area for heat dispersion, Shimano's FREEZA rotor for XTR-M9000 remains the ultimate in heat control that is now available in smaller size options with a lighter weight spider. The rotor provides a 50° C reduction in heat giving riders more powerful braking and greater durability and longer pad life.
The SM-RT99 is available in 140mm, 160mm, 180mm and 203mm diameter sizes. April 12, 2014 5
WHEELSETS:
SHIMANO GOES CARBON WITH XTR RACE AND TRAIL WHEELS
The all-new XTR M9000 wheels mark a serious turning point for Shimano in premium mountain bike wheel sets. They are Shimano's most advanced mountain bike wheels to date, and also the first featuring carbon laminate rim technology. New XTR M9000 series wheels are even more focused at each end of the spectrum, from ultra-light and durable race wheels to all-mountain tuned trail wheels. All new XTR wheels use 28 butted spokes both front and rear and include a new lightweight bearing and axle system.
WH-M9000-TL
Available in both a 27.5 and 29" option, the XTR M9000 Race wheels have a 20mm internal rim width and a new UST tubeless carbon laminated aluminum rim.
WH-M9020-TL
Available in both a 27.5 and 29" option, the XTR M9020 Trail wheels have an 24mm internal rim width and a new UST tubeless carbon laminated aluminum rim.
WH-M9000-TU
Carbon tubular wheels offer the ultimate solution for XC racers, in a 29" exclusively, ultra-light wheel set.
HB/FH-M9010
A cosmetic update, lighter rear axle system and a 15mm E-thru axle provide XTR technology at the center of the wheelset.
FH-M9000 (Quick Release type) and FH-M9010 (12mm E-thru rear) hubs are both 10 and 11-speed compatible.
The rear hubs feature a new lightweight bearing and axle system that is now 33 grams lighter.
XTR M9000 hubs are exclusively CENTER LOCK compatible. April 12, 2014 6