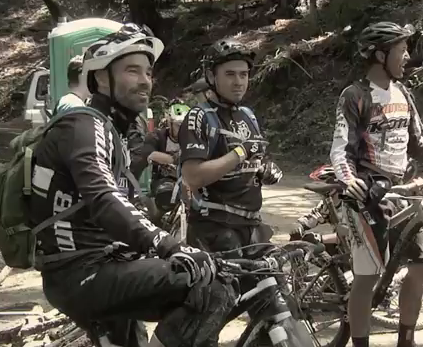 http://youtu.be/z6rEZjonwGo
There's plenty of descriptions for Enduro racing out there, but I just stumbled across this video from the Bell Super Enduro up in Santa Cruz's Demo Forest last week. This video breaks it down and makes it pretty damn clear, well, Ali G does. Watch it then enter the Bikecycle.co.nz event in Christchurch, or put one on yourself!
Oh by the way, Demo Forest is in Santa Cruz, not Morgan Hill, so why did Specialized name a bike after a trail that is in another bike company's back yard?
And here is the official video description…
"Combining a series of hair-raising, timed, technical descents with untimed but challenging climbing segments, the 2012 Bell Super Enduro was a first-of-its-kind mountain bike race in the US.  [Not sure about this, I think Ross Schnell put an event like this on at Trestle MTB park in Colorado last year.]
Borrowing on the European phenomenon of multi-stage enduro events, the race was part of the third annual Santa Cruz Mountain Bike Festival in Aptos, California.
Held on the crest of mountains between Silicon Valley and Santa Cruz the race showcased the amazing trails of the Soquel Demonstration State Forest and featured six stages–three untimed climbs and three timed runs on all-mountain-style descents.
Though elapsed racing time was less than 30 minutes for each racer, total ride time was in the five hour range, demanding the fitness and stamina to complete some 7,000 feet of climbing, as well as the technical riding skills to rail the long descents."